Babies will put anything and everything into their gummy lil' gobs. It's a fact of life that every mum must learn to accept – however much their kiddos' dubious menu choices may make them cringe.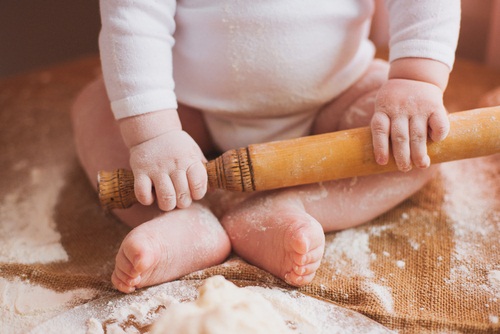 The best way to overcome the compulsion to muzzle your babs' maws and wrap his hands in plastic is to give him plenty opportunities to explore in his favourite way.
Handsonaswegrow.com, in collaboration with Ella's Kitchen, have created a list of fantastic edible sensory play ideas for kids to do at home. Not only are the activities super-fun for babies and toddlers who love to yummy down on all manner of objects, but they will also help introduce edible stuff that's actually good for little ones.
Ella's believes that, "just as adults do, babies eat with all of their senses, it's not just the texture or taste that's important". That's why offering children full-on sensory experiences in relation to eating is so beneficial – it's shaping their appreciation for food, as well as providing them with a way to learn about the world using all their senses.
Try out these super-simple, seriously fun sensory play activities – or use them as inspiration for your own ideas; just remember: the brighter, the squishier – the better!
Dig frozen veggies out of the freezer for a brrrrrilliant sensory bin.
Use cookie-cutters and a melon-baller to make a multi-shaped fruit salad – a refreshing sensory tub for babies to sample.
Forget fiddly paint recipes – baby food works just as well as an edible finger paint.
Practice fine motor skills with your pal by filling a bottle with mini crackers, nuts, and any other snacks that'll make great sound-effects, and Ta-Da! A DIY rattle!
Freeze berries in some water and have the kids 'excavate' them out. (Tip: the tinier the tools, the longer they'll be occupied…)
Coloured cooked spaghetti. It's easy. It's slimy. Everyone wins!
Ice. So simple, yet ice is so much fun for kids to play with; it gets slippery and hard to hold on to – make it even cooler by using fun-shaped ice trays and (natural) food colouring.
WORMS! Nope, they're just cooked noodles!
Jelly is a sweet, wibbly, wobbly sensory play idea…Go for fruit jellies without the added sugar.
Make a peanut butter play dough. Just remember; it's for the kids!
For more awesome edible sensory play ideas, check out handsonaswegrow.com