Babies love water—after all, they spent the first part of their lives suspended in it, but swimming doesn't always go as well as expected. Here's how to make sure it does.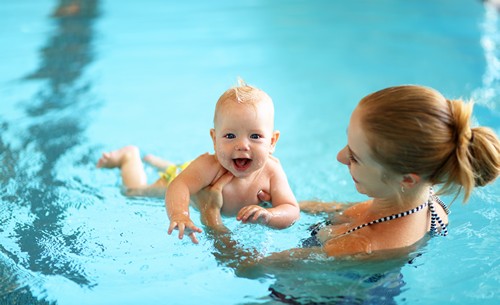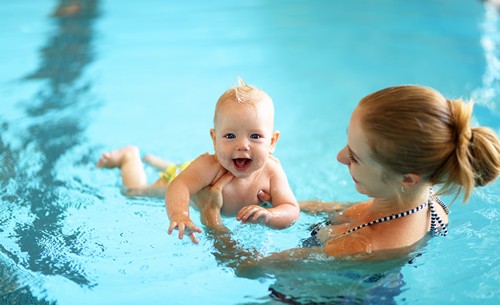 Tamsin Brewis, baby swimming instructor for Waterbabies reveals the pro tips for making that first swim session a great experience for mum and baby:
Avoid peak times
Pick a morning session in the week—or a super early slot on the weekends. Pools can get noisy at peak times, and the hubbub can mean sensory overload for what is already an intense experience for baby.
Work it into the routine
Don't forgo a nap or a proper feed to make it to a swim class; a tired, hungry tot is a recipe for disaster. Instead, make sure she's well-rested and fed, and swim solo (but happy) together in the pool.
Check the mercury
The pool temp should be 30C for a baby older than 12 weeks (or heavier than 12lb) and above 32C if he's younger or smaller. If your little one's lips or fingernails turn blue, it's too cold, and time to leave the water.
Bring a duckie
Pack your bub's best bath toy for a bit of familiarity—it also sends the message that swimming is fun.
Ease into it
Don't go straight for the dunk; sit with your baby at the edge of the pool, maybe dipping his toes in. Then slowly slide in, holding him under the armpits. Keep eye contact, smiling, and calmly chatting about the water.
Via motherandbaby.