The Net is so vast that it can seem a far too unreliable place; every search result tinged with subversive threat. In reality, there is a wealth of incredible content and brilliant resources for families online—you just need to know where to look. To save you some effort, here's six recommended kid-friendly YouTube channels that'll inspire, entertain, and even teach, your tots.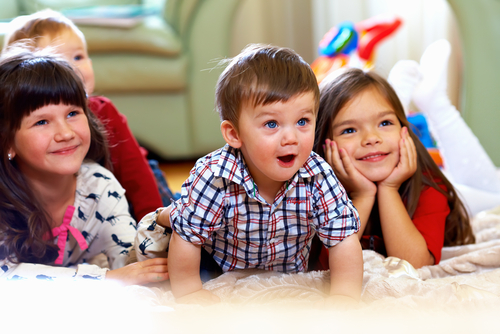 Andrew Holdsworth
London musician Holdsworth overlays a dark, twinkling backdrop with his piano renditions of lullabies. His "Two hours of gentle lullabies for babies—Baby Sleep Music" video has garnered 87 million+ views—no doubt as a sleep hack. Napping to smooth pianoforte? Who wouldn't!
Suitability: birth to 4
LittleBabyBum
Old familiar nursery songs + colourful animation = magic happy time formula. Caution: your kid may become mildly obsessed with The Wheels on the Bus—if you already have an aversion to the tune (or any other nursery classic), this could be Pandora's Box right here.
Suitability: 1 to 5
Baby Einstein
My daughter's feelings for the channel would pendulum between delight and terror; she loved the puppets, but would hide under the table when the random shapes would bob across the screen. Thankfully, she's since grown out of her geometric phobia—and if the popularity of the episode "Baby Einstein Baby Mozart Music Festival" is anything to go by (23 million views and counting), you're probably on to a winner with this one.
Suitability: birth to 4
Pinkfong! Kids' Songs & Stories
K-pop set to animation, and it's all the rage with the preschooler cool kids. "Baby Shark Dance" has 875 million+ views. Look out for spin-off sleeper hits "Police Sharks" and "Cube Baby Sharks", too.
Suitability: 2 to 6
All Things Animal TV
What kid doesn't go wild for all things animal? Seemingly the whole of the animal kingdom is readily explored—from backyard pets and critters to jungle beasts and Antarctic denizens.
Suitability: 1 to 6
Babble Dabble Do
The brainchild of mum and architect Ana Dziengel, this channel is devoted to getting creative with everyday items—think crafting stars out of paper bags or stirring up some rainbow slime. "She has a way of picking projects that turn very simple raw materials into something so magical," says Amanda Kingloff, of ProjectKid.com.
Suitability: 5+
Via parents.com