It's at the ages of 5 and 6 that reading takes on a whole new dimension. It's at these ages that not only are children learning to read but they are beginning to pay attention to the complexities of storytelling – character development and the underlying emotions that drive words and text. It's an amazing thing to be a part of!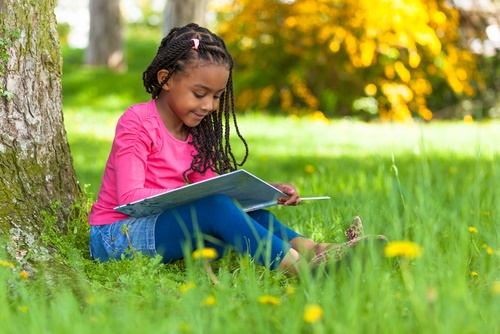 In ode to this beautiful stage f literary development, Melissa Taylor – a teacher, mama, and writer from Colorado (whose goal in childhood was to read every book in the children's section of the library) – has put together a list of 50 top books for this age group; we're sharing 2 with you (in no particular order):
Actual Size by Steve Jenkins
Born in the Wild: Baby Mammals and Their Parents by Lita Judge
Dinotrux by Chris Gall
Duck! Rabbit! by Amy Krouse Rosenthal and Tom Lichtenheld
Last Stop On Markey Street by Matt de la Peña, illustrated by Christian Robinson
Miss Nelson Is Missing by Harry G. Allard Jr., illustrated by James Marshall
Over The Hills & Far Away edited by Elizabeth Hammill
The Paper Bag Princess by Robert Munsch, illustrated by Michael Martchenko
Pete The Cat by Eric Litwin, illustrated by James Dean
Piggie Pie by Margie Palatini, illustrated by Howard Fine
Shark Vs. Train by Chris Barton, illustrated by Tom Lichtenheld
The True Story of the Three Little Pigs by Jon Scieszka, illustrated by Lane Smith
Where the Sidewalk Ends by Shel Silverstein
You Read to Me, I'll Read to You: Very Short Fairy Tales to Read Together by Mary Ann Hoberman, illustrated by Michael Emberley
You Will Be My Friend! by Peter Brown
Ballerina Dreams: From Orphan to Dancer by Michaela DePrince and Elaine DePrince, illustrated by Frank Morrison
Benny and Penny in Just Pretend by Geoffrey Hayes
Bink and Gollie by Kate DiCamillo and Alison McGhee, illustrated by Tony Fucile
Bathtime for Biscuit by Alyssa Satin Capucilli, illustrated by Pat Schories
Today I Will Fly! (An Elephant and Piggie book) by Mo Willems
For the rest of the books featured on the list, visit Readbrightly.com – you're sure to find a host of hidden gems in Taylor's inspiring list!