Founded in 2011 by duo Emma Penrice and Samantha Smith to offer innovative and stylish keepsake products to capture life's special moments, Illustries' collection of beautifully designed books are fast becoming a 'must-have' among style savvy families.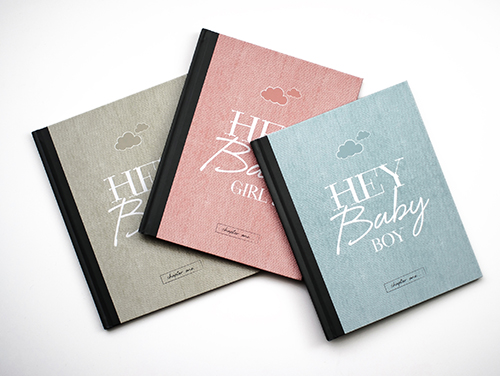 The family collection comprises a range of contemporary and beautifully-designed baby record books, brag books, a unique advent activity calendar and the brand new family book which launched in November 2015. Completely unique in design and fun to complete, every Illustries book has been crafted with the modern parent in mind.
Hey Baby Record Book
Perfect for new mummies or mummies-to-be is the charming 'Hey Baby' book.
Fun to fill in, read and relive in years to come, mummies (and daddies!) will be able to record moments in pregnancy and a baby's first year with cute and comical extracts, without having to fill in pages of endless questions. Features and topics that span the smart, timelessly designed journal include: a birth announcement, shortlist of names, bump nicknames, due date calendar, wishes for your baby, labour countdown, family tree, a guide to being a parent, awards ceremony and a record of their first birthday party. Also included is a brilliant 'Eating for Two' page with 'Cravings' and 'Ewww' columns as well as space for notes and wishes.
 'Hey Baby' is available as a 52-page hardback book printed on heavy matt uncoated paper in a yellow and grey colour palette. The gender-specific 'Hey Baby Girl!' and 'Hey Baby Boy!' versions are available in a twist on the traditional duck-egg blue for boys and coral pink for girls.
Advent Activity Calendar
An engaging activity calendar designed to keep little (and bigger kids) amused throughout the month of December, while creating special family memories along the way. With an activity dedicated to every day in the countdown to Christmas, it's fun and festive way to get into the seasonal spirit.
We Are Family
Ideal for families of all ages, the 'We Are Family' book provides a place to record the details that all too often get forgotten in the whirlwind of family life. From the extraordinary to the everyday, there's a page to complete for all the little details, milestones and memories that make a family unique. From favourite films and secret recipes to silly quotes, sketches and selfies, this is a book that promises to be the perfect gift for Christmas, Mother's Day and beyond.
Designed in the signature Illustries style with hard covers, luxury heavy matt uncoated paper pages and a neutral stone, navy and kraft colourway, the Family Book is made to last a lifetime – it's also suitable for all family structures including same-sex parents and step families.
 Illustries is offering the Sudocrem community an exclusive 30% discount on the family collection for until midnight on Black Friday. Use code SUDOBF30 at the checkout.
For more information about the wide and unique range of Illustries products, please call 0845 4681610, email hello@illustries.com or visit www.illustries.com