It's a sunshiny day and Peppa is playing outside with her pals. Mummy Pig and Daddy Pig have got a surprise for her and George – they can't guess what it is, but can you…?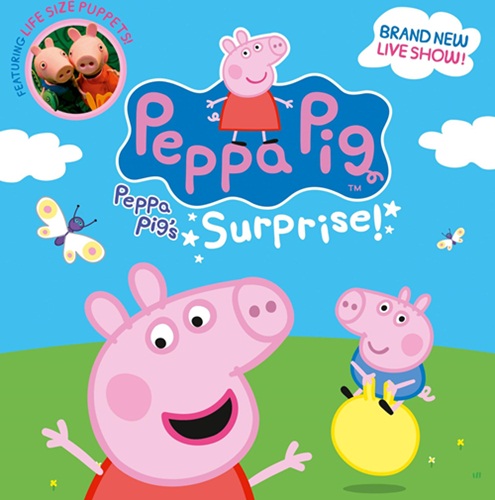 Not one to miss an opportunity to capitalise on her mass following of mini-fans, Peppa Pig will be hitting stages all over the UK for her brand new, super special, spectacular Surprise Show!
So, what's in store? Well, the piggy crew is keeping details on the down-low, of course, but rumour has it there'll be at least one dinosaur (for George), possibly a pair of that famous golden footwear, and no doubt plenty Daddy Pig-directed derision…
Join peppy, precocious Peppa, tag-along pipsqueak piglet George, plus Suzy Sheep, Danny Dog and Emily Elephant for fun, games and obviously, surprises in this fab new show with new songs — and new life size characters (whether the giant pink porcine puppets will transfix or terrify your preschoolers is another secret, too).
One thing's for certain, though; once your kiddies get wind of this, they won't let up until you buy the tickets anyway. Find your nearest participating theatre and book your spot HERE.