Move over bump bowls and belly casts — if you want your yet-to-be-born bambino bang on trend, the 3D printed baby scan is where it's at.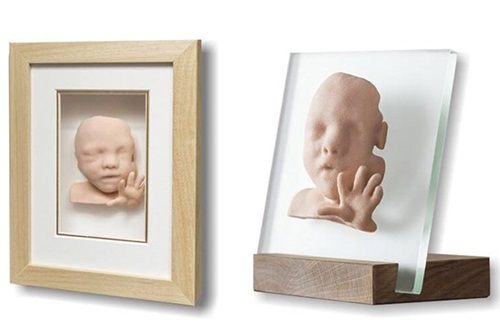 Most mums keep mementos of their little ones' time in-utero. For many of us, it's the standard, near-indecipherable, blurry, black-and-white ultrasound pic.
For others, it's an 8-inch, true-to-life cast of their developing baby.
The service is offered by Baby: Boo Scan Studio in Lancashire, where the amazing replica is created by doing a 4D ultrasound. Next, the images from the scan are rendered into a 360 degree format and 3D printed.
You can then take home your 3D model in a box and have it mounted in a frame, ready to be displayed at home.
"People do think it's a little odd but it's similar to creating casts of baby's feet or hands. It's actually a really lovely keepsake to cherish," Katie Kermode, Baby:Boo owner, told the Mirror.
The company charges £400 for a full 8-inch model of their baby, made with a 3D printer. Alternatively, a head and shoulders cast goes for £170.
Katie's aim is to create an "unforgettable bonding experience", and there's room enough in the studio to bring friends and family along to share the moment.
But bear in mind; this is purely for keepsake's sake – it doesn't replace your diagnostic NHS scan.
For more info, go to Baby:Boo.
Via madeformums.com