A collective gasp reverberated across the world when Yahoo CEO Marissa Mayer announced she'd be taking a meagre 2 weeks off post-birth to take care of her twin babies.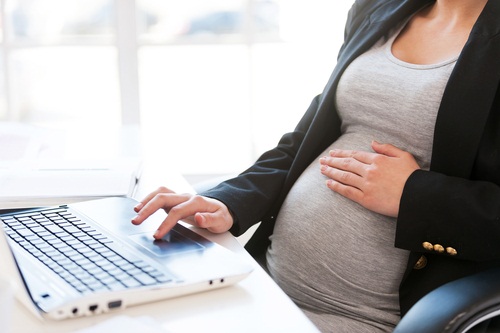 Mainly, the social media shockwave was so seismic because Mayer's decision called into question her parental priorities (admittedly, nobody's business), but it also ignited fresh vitriol for another reason: the chief executive mum chose the ridiculously foreshortened maternity leave; many, if not most, other mothers in the workforce have no other option.
No matter what social advancements can be lauded in the 21st century, discriminate employment practices – particularly in the way of companies' maternity policies – is simply par for the course for a career woman.
But Fairygodboss – a new start-up database that allows women to leave reviews of their workplace maternity leave policies (and general approach to gender equality) could help to shake up the status quo.
The site offers jobseekers transparent view of what companies actually offer their employees – beyond the idealised recruitment blurb. It gives a realistic idea of how secure a position is when it comes to having a family and provides stark warnings about any maternity discrimination.
The brainchild of American Georgene Huang and former Dow Jones colleague Romy Newman, Fairygodboss was born in response to the intentional diversion away from discussing maternity policies during the interview process, and the taboo surrounding potential employees asking for clarity on the subject.
Fairygodboss currently holds information on about 700 companies, including Apple, General Electric and Google, and intends to "call out those bosses who fail to take maternity leave seriously", while offering female job hunters the information they need to make a truly informed job hop or career move.
Currently, only five of the Fortune 100 companies list their maternity policy on their website.
One anonymous female employee at Hewlett-Packard (a marketing director on around £100,000) writes about the inherently patriarchal company culture:
"It is a boys club. Don't expect to see a lot of women at the VP level or above. Within some marketing groups finding a female director is challenging. Outsiders tend to think having a woman at the helm means great opportunities for women at HP, but it is not true. Worse, after five years here, I've seen a lot of really smart, talented women forced out or marginalised in the constant reorganisations".
The above experience won't be surprising to anyone on the fairer side of the gender divide, but things are changing out there – and not just incrementally; on November 3, Amazon committed to increasing paid parental leave to 20 weeks and offering a policy where employees can share six weeks paid leave with their partner. Microsoft recently upped its paid maternity leave from 12 to 18 weeks, while Netflix now offers a year.
Still; those are the big names that can't exactly escape public scrutiny – what happens to those smaller business that fly under the radar, and who have the majority of working women under their employ?
That's where Fairygodboss – and other platforms like it – comes in. Check it out an add your voice.
Source: The Telegraph