Nobody likes to be told how to live their lives – but unfortunately for mums and dads in San Francisco, unsolicited parenting advice is plastered everywhere. Literally.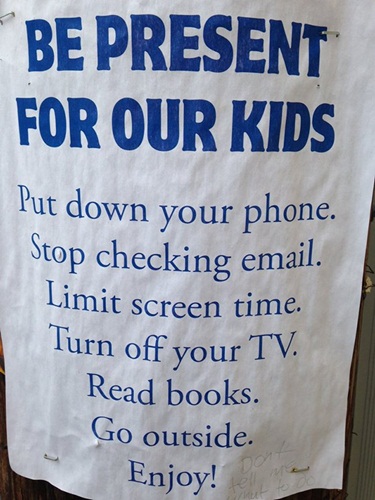 "Be present for our kids," reads the poster spotted on lampposts in the up-and-coming neighbourhood of Bernal Heights.
"Put down your phone.
"Stop checking email.
"Limit screen time.
"Turn off your TV.
"Read books.
"Go outside.
"Enjoy!"
Expectedly, folks aren't taking kindly to the "self-righteous" (and anonymous) Samaritan's attempt to instil long-lost family values.
"Everyone is helicopter parenting each other," one Twitter user comments.
"Well we all do need reminders, but the preachy tone and the "Enjoy!" at the end kinda scotched it for me," another adds.
And so continues the furore down the feed.
The thing is, the poster does have a point. A few points, actually.
According to a recent study, nearly one-third of children feel unimportant when their parents use their mobiles during meal times, conversations, TV watching and playing outside.
The AVG Technologies study surveyed more than 6,000 children, ages 8 to 13, from Brazil, Australia, Canada, France, United Kingdom, Germany, Czech Republic and the United States.
"I do feel like the balance between the degree to which I use my mobile device to stay connected to work and my ability to be more present, available to my family, is quite out of balance," one of the parents in the study admits.
In addition, 54 percent of the kids think their parents spend too much time on their phones – and fifty-two percent of mothers and fathers agreed with their children, worrying that they were setting a bad example.
Another poll of 3,000 parents found that only one in five tell bedtime stories every night – despite the majority believing it's an important way to connect with their children at the end of each day.
Reasons included parents' lacking confidence in their own abilities, while others just "couldn't find the time".
A third of mums and dads said they preferred socialising with their friends to reading with their kids.
Evidence abounds confirming those "preachy" admonitions. So perhaps it's not the content of the poster that's the problem – just the delivery.
"For the record, I don't disagree with the sentiment of the poster, just the preachiness," tweets one dad.
But would it make any difference if the same message was communicated face-to-face – via a friend, even, the suggestion to do better swaddled in niceties?
Not likely.
The reality is that if you're comfortable in your parenting – and you stand by the choices you make every day, should a piece of paper tacked to a pole be that big a deal?
Only you can be the judge.
(And not some anonymously penned poster.)
Source: madeformums.com