We know, we know; teensy weensy outfits and itty bitty booties are almost impossible to resist – but if you're keen to save space (and your bank balance) there's really only a few wardrobe staples your newborn will need.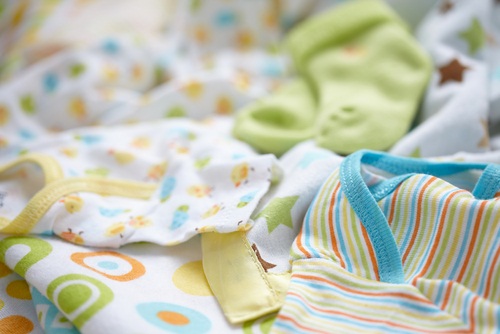 Check out the list below of essential baby clothing items you should be stocking in the nursery drawers…
Many babies will outgrow newborn clothing in the first few weeks, yet they'll also wear multiple outfits a day due to various projectile emissions. So…stick to basics for the beginning, and work out how many of each item you'll need depending on how many loads of laundry you're prepared to do every day.
Bodysuits (4 to 6)
These are great as insulating underlayers in the chilly months, and an easy summer top to pair with leggings and shorts.
TIP: Stock up on 0-3 months in short and long sleeves; patterned is preferable – it hides the stains!
One-pieces (4 to 6)
Interchangeable as sleep or daywear. A word to the wise: go for zippers over snaps – you'll thank us during those 3am emergency bum changes.
Side Snap T-shirts (4 to 6)
Designed to put on like a jacket, side snap t-shirts are super easy to get on and off. Plus, the open bottom doesn't fit as snugly as a bodysuit – so the umbilical stump won't be chafed.
Long leggings (2 to 4 pairs)
Socks never stay on (tots have a knack for consistently losing just one), so opt for footed leggings to keep those tootsies covered.
Gowns (2)
An ace invention for middle-of-the-night changes; a sleeping gown features an open-banded button that makes nappy duty faster and easier.
Sleep Sacks (1 to 2)
Newborns need to be snug in order to relax and drift off to lalaland. Sleep sacks like this one effectively swaddle a little one securely using Velcro straps – forget fiddly blankets and origami folds.
Caps (1 to 2)
Although babies don't actually need hats indoors, a cap will keep them toasty when outside in colder climes.
Socks or booties (4 to 6 pairs)
Finding socks to fit newborn feet can be difficult. Booties that tie at the ankle are a better bet. (And totally cute, too.)
Via fitpregnancy.com