I am a sucker for heritage gift shops. A total sucker. I always walk away with something in tow – usually a couple of amazing books and a random nick-knack or two.
Upon a recent visit to Windsor castle I left with a gorgeous 9" globe (that was on special I might add) depicting the city of London. I bought it for me but with my daughter in mind – and she simply loves it!
It's a 'picture globe' featuring 40 major landmarks and comes with a 16 page booklet packed with interesting facts about the historic city and tourist sites depicted on the globe.
Now, what my two-and-a-half-year-old daughter loves are the minute details scattered all over the globe.
Since seeing the Queen's guards at Windsor Castle, she is simply mad about guards. We play 'spot the guards' on the globe, most of which are stationed outside Buckingham palace (unsurprisingly).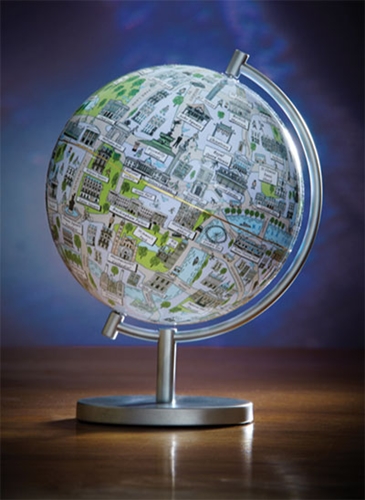 There are also cyclists, shoppers, bobbies, a kite-flyer, some pigeons and even a golden carriage ready to parade down The Mall.
It really is great fun.
And educational as well. The globe is a great way to teach children about London in all its grandeur. My daughter loves knowing that the city on the globe is where she lives.
The London globe is made by Globee, which also produces globes from all over the world. There are UK globes (including an Oxford University globe), European globes, international globes, money box globes, night light globes and globee umbrellas. But the London globe is the top seller – naturally.
The globee globes would be an interesting gift alternative. Visit Globee.co.uk to peruse the catalogue.