Kids have a lot of complicated things to learn — tying shoelaces, riding a bike, swimming a length, and remembering to put the lid down. But one of the most complex skills they must master is, by far, learning how to tell the time.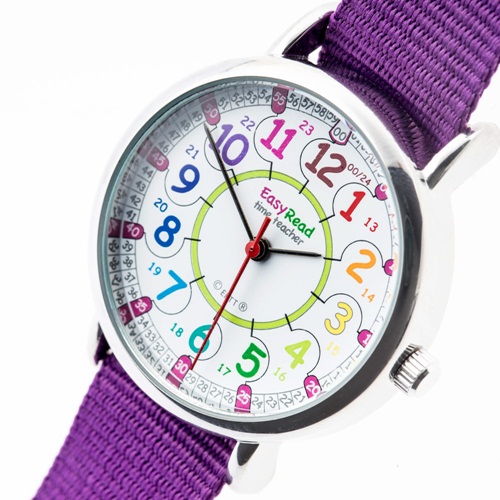 The EasyRead Time Teacher children's watch makes acquiring this important life tool as simple as 1-2-3. Literally.
Understanding how time works is no small feat; and the only way to get it right is practice, practice, practice. However, trying to apply confusing principles to teensy, obscure dials only prolongs the process.
Enter the EasyRead Time Teacher – a genius adaptation of the standard analogue watch face design, helping children (and adults!) overcome the problems encountered when learning to tell the time on analogue clocks.
With a large, clear, rainbow dial, the watch is the perfect visual aid for kids aged five to 12. They can read and use the watch in real time, everyday, whilst getting to grips with the theory behind the tick-tocks: how minutes past become minutes to the hour.
The face is water resistant to splashes (not submersion), made from non-allergenic plating, and the band – in purple or grey – is completely washable.
It's obvious that this is a great idea; but there's no guarantees it'll make your little tykes any more punctual. (Sorry.)
Check out the EasyRead Time Teacher HERE.