Welcome to the world's first infant car seat with fully integrated wheels! It's a real thing – its name is Doona; it's won awards and it's pretty, gosh-darned awesome.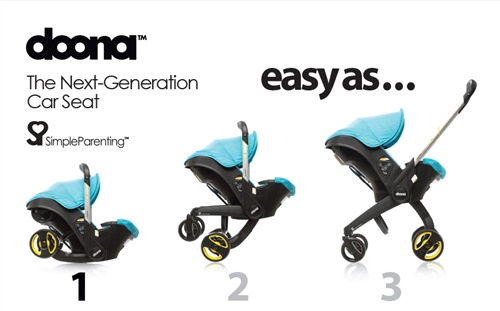 The Doona switches from car seat chair to pushchair with the push of a button – in one simple motion. The product has four wheels that collapse under the seat base; a button is pushed, the wheels are released and a pram emerges. It's genius – no more hauling weighty car seats in and out of cars!
Think how much easier the school run would be…no pram needed (because you have one already!), extra boot space and no need leave home super early so that you get a decent parking because you have to haul a car seat all the way to school with your two older children in tow. Yes!
There are a host of accessories that can be purchased along with the Doona, including an insect net, all day bag, rain cover, snap-on storage, essentials bag, sunshade extension, Isofix base, wheel covers and travel bag. It comes in gray, black, red, beige or blue.
It is absolutely brilliant for families 'on the go'!
Visit Cuddleco.co.uk/doona.asp to find out more about the Doona – you won't want to miss out!