This season lends itself to some amazing autumnal craft ideas to keep your toddlers entertained. Here are some great, colourful and fun crafts your little one is sure to enjoy.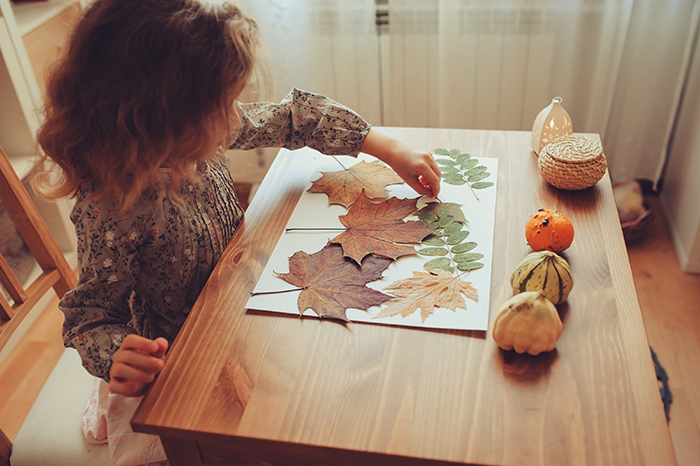 Leaf pictures
At this time of year there are so many wonderful colours to be seen as the leaves fall from the trees. Take your little ones for a walk and collect as many different types as you can, then craft them into a picture or collage when you get home.
Apple tree handprint painting
All you need to make a colourful and fun apple tree picture is some paper and poster paints. Let your little ones get messy and explore the feeling of paints on their hands and let them get creative. Use lots of green handprints to make the shape of the top of the tree and use the side of the hand with brown paint to create the trunk. When it's dry, use fingerprints to make lots of red, shiny apples.
Autumn wreath
You can make a pretty autumn wreath with some red, yellow and orange card, a gold pen and PVA glue. Cut out lots of leaf shapes from the coloured card – use your own designs or trace around real leaves you've collected. Draw gold veins on the leaves with the pen, then glue one side of the leaf onto another and overlap them, bending them around to form a circle.
Conker painting
Conkers can be found in abundance at this time of year – so why not use them for some fun crafting? Simply dip the conkers in paint and roll them around on a piece of paper. Little ones will love seeing the patterns they make.
Leaf puppets
Collect leaves of all shapes and sizes and use them to make puppets. Stick the leaves to lollipop sticks, add googly eyes, feathers and any other craft items you have and let your children put on a puppet show.