I'm a huge fan of baby-wearing.  Not as a fashion accessory you understand.  My husband and I just found using a baby sling or papoose the most practical means of getting around with  our babies.  Firstly, because it helped them sleep whenever/wherever (a godsend during a long haul trip to Australia).  Secondly, because they seemed happiest being held and sometimes my arms gave up long before their cries did.  Thirdly, because when my second baby came along, I needed to be hands-free to attend to my toddler, but wanted to make sure my newborn still felt involved and embraced.  Fourthly…do I need to go on?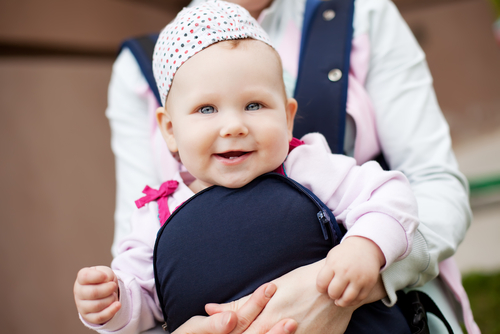 The only problem is that there is a world of baby-carriers to choose from and it's hard to know exactly where to start.  Should you simply use a swathe of fabulous material or a more structured baby carrier?  Do you want to wear your baby on your back, front, side or hip?  Will you just want a sling for your newborn or something that will support them when they're a toddler too?  There are as many varieties of baby-carrier as colours of the rainbow.  And everyone will have their favourite that they swear by.  So how do you know which will be your favourite?
These are precisely the thoughts that went through the mind of Laura Summers, soon after she gave birth to her daughter Ellen.  She came to the conclusion that a 'try before you buy' baby sling hire scheme was the best solution and, unable to find such a thing herself, set up the 'slings and stuff' website Petit Poppet .
Here, parents can choose from several different award-winning baby-carriers to hire – with the fee being wholly donated to the charity Sands (Stillbirth And Neonatal Death).  You can then try your choice out at home and, if you decide to buy, will be given a 10% discount off any purchase.  A truly inspired idea.
You may even find, like me, that several baby-carriers are the answer.  I had a cotton sling  for light use around the house, a snug sheepskin papoose for outdoors and an all-weather baby backpack that was great for long walks or inclement weather.
But the only way you're going to find out what's right for you, is to try one.  Petit Poppet stocks options by Moby, Connecta, SnugBaby, Beco, Scootababy, Napsack Baby, Hoppediz and Boba 2G.  Happy sling hunting!
Check out our other posts "Best baby slings"