Best baby bath toys
Moving house recently was a great excuse to finally get round to sorting out some of the many, many bath toys festering at the bottom of our 'bathroom bucket'.  Any that had missing parts which were, in truth, never going to be mended ended up in a black bag.  As did some now-horrid plastic ducks that oozed slime, as well as absolutely anything that had the slightest whiff of mildew about it.  My husband is a passionate sailor and is always telling me what a corrosive substance water is but here, in all its gunky gruesomeness, was the evidence for myself.
This sweeping purge left my children's bath toy collection embarrassingly depleted.  But I didn't just want to fill the void with plastic tat.  There had to be something better out there than novelty sponges, rubber ducks and short-lived model boats.  And so my hunt began.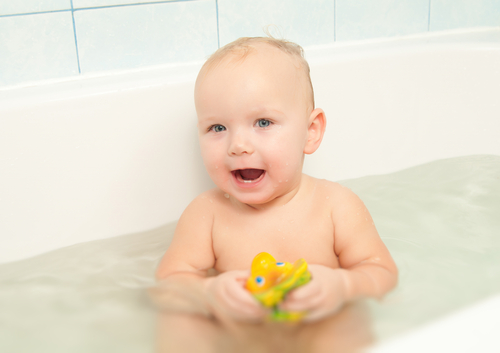 Given children's universal pleasure in pouring, tipping and sieving water, the first thing that caught my attention was the fab 'Caterpillar Spiller', £4.97 from www.wilko.com.  Seven numbered cups nest for easy storage or can be stacked up to form a towering paddle wheel.  On top of that, each one has a different style sieve to scoop and filter water every which way.  Water play galore!
Next, much to my delight, I found foam Dirty Dishes, £13 from the ever-innovative Great Little Trading Company.  Sink the 12 pieces into warm water and the 'dirt' magically disappears.  Then pop the clean dishes into the storage rack to drain.  Perfect for budding domestic goddesses everywhere…
Boys might prefer foam transport shapes, £12 from Letterbox .
My son was particularly thrilled with Wet Wheels by Munchkin, which he can speed along the bathroom floor while he's waiting for the tub to fill, then take into the water with him where they float on the surface.
I was also very impressed by the Brother Max range of bath toys .  The funky designs are available in sets of three (£9.99) or five (£16.99) and are made of much sturdier stuff than many bath toys – happily also phthalate and PVC-free.  Designed to introduce children to the materials we use to wash with, the clever pieces encourage interactive play.  So curious toddlers can wear and shake the Ring Rattle, the Sprinkler Cup filters water as it fills and the Twister Flannel twists apart (which also means you can pop the flannel into the washing machine when it needs sprucing up).  Parents will appreciate the intelligent heat-sensitive spots that turn yellow if the water temperature is too hot.  You can tell these toys were designed by a parent!
At five years old, my daughter is currently obsessed with creating simple words that she can spell out herself.  So foam letters that stick to wet tiles or the side of the bath, £4 from the Early Learning Centre, will appeal to her.
I just need something to keep her little brother occupied so he doesn't rip the letters off as fast as she sticks them up.  Glow Dives, £11.99 from Zoggs, that change colour at the flick of a switch, might be just the thing:
In my search, I also came across some bathtime essentials that I can't believe I've coped without all these years!
This Shampoo Rinser, £4.47 from Asda Direct, will mean no more tears on hair-wash nights. A soft silicone rim cleverly forms a seal between your child's forehead and the rinser so that you can enthusiastically rinse away shampoo without soap or water getting into tiny eyes.
A bath scoop to clear out all these new toys is another must-have.  I love this Whale Scoop, £20 from Great Little Trading , with draining holes and clever suction pads to attach it to the tub after you're done.
And how could I resist the matching toy net for £12?  Not only might it encourage my children to tidy toys away into its gaping mouth but the net base should discourage mould and mildew.
Bathtime has never been so anticipated!