Bibs are a must-have item in any baby's wardrobe and, when your baby is dressed up for a meal out with the grown-ups, they're absolutely essential.  Whilst there are all manner of funky styles to choose from, they're not all as practical as this neat little concept from Brother Max (www.brothermax.com).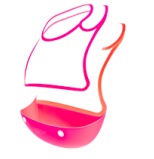 Each Combi Bib package (£10.87 from Tesco direct) comes with three soft cotton bibs that cleverly attach onto a flexible plastic crumb-catcher with easy-as-pie poppers.  My babies always complained when I put a stiff plastic bib on them to catch all those dropped morsels of food.  But this design combines a plastic tray with a soft cotton bib, making it more comfortable for your child.  When they're done, you can just unfasten the bib's velcro tab and un-pop it from the tray.  Dirty bib goes into the washing machine (and can be tumble dried too); crumb catcher can be emptied and rinsed.
Neat to use every day, the Combi Bib is particularly useful when you're eating out with your baby.  You can store the bib and cutlery inside the sealed crumb catcher beforehand, then afterwards, just roll the whole thing up inside again, along with any used cutlery.  I've often wondered what to do with dirty bibs or muslins when I'm on the go and hate finding one stuffed in my handbag, days after the event.  This would definitely put paid to such embarrassments!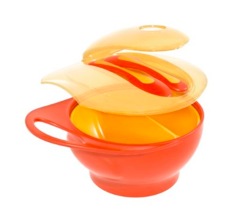 Talking of meals on the go, you could do worse than investing in Brother Max's Travel Weaning Bowl (£5.99 from Amazon), which includes two of their brilliant heat-sensitive spoons in the lid.  A suction base keeps the bowl steady, a wrap-around handle makes it easy to grip and it even has a removable 2 course divider to store a main serving and a pud.