When did birthday party planning for kids get so sophisticated?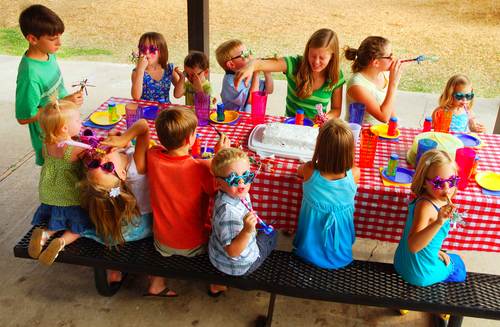 It's not enough now to hire a magician, serve jelly and ice-cream and send the kids home with a balloon and slice of birthday cake.  Not unless you want to invite total social shame that is.
And it's not only playground stigmatism you need worry about.  Kids (and their parents) are increasingly picky about which invites they'll even accept.  Time is a precious commodity and if someone's going to give up half their Saturday to take their child to a party, they expect more than a short-lived sugar-high and party bag of disposable plastic loot.  If you want a throng of excited guests to celebrate your little darling's birthday, you're going to have to do better than that.  A lot better.
Unless you live somewhere extraordinary (architect-designed, stately home or teepee campsite), invitations to home parties or the local village hall come fairly low down the pecking order.  Swimming parties or a soft-play centre are fine but an outing of some sort is really preferable.  And of course, you definitely can't choose the same venue as anyone else in your social scene in any given year.
My daughter enjoyed learning to make an authentic pizza at a recent Pizza Express party; she was titillated by the Princess party with an adult entertainer dressed as Sleeping Beauty.  But the one that really got her vote was the birthday held at riding stables, where each child spent an hour learning to walk, trot and canter on their own pony.  There were proper rosettes to take home, an on-site baby animal farm, sausage and chips for tea AND the adults were catered for.  Smiles all round.
Obviously, parties are age and gender-specific.  My 3 year-old son would be satisfied with a bouncy castle and chocolate-fest.  But he was in raptures at a farm-based party, where he got to ride a tractor, feed the pigs, collect eggs and play in straw bales.  And a recent birthday that involved a 40 minute ride on a traditional steam train was his idea of heaven.  Still, I know it's only a matter of time before he's demanding kayaking, wind-surfing and a barbeque on the beach, ideally with a live steel band.
This weekend, at a wedding, we were treated to the latest craze in children's' entertainment.  In order for the many parents amongst the guests to enjoy the speeches, our thoughtful hosts had laid on some light 'edu-tainment' for the kids.  Instead of a clown making balloon pets or jolly babysitters armed with a stack of DVDs, snakes and tarantulas were the stars of the show.  So while we were listening to the father of the bride embarrass his daughter, my children were handling stick insects and having snakes draped round their necks.  At one point, I peeped in to see my reticent little boy stroking the yellow scales of a 3m-long Corn Snake and, feeling a little queasy, swiftly excused myself.
Apparently 'education through interaction with some of the world's most fascinating creatures always provides an entertaining experience' Animal Zone UK.  Certainly all the children, aged from 18 months to 10 years old, were entranced by the experience and I'm sure learned more in one hour than a dozen visits to the Reptile House at the zoo.
But given that my daughter is only in Reception, I do wonder how we're going to keep the momentum up.  I imagine by her eighth birthday the pressure will be on to hire the local cinema for a private screening of her favourite film, or chauffeur her friends round London in a sleek limo while they have their nails painted and fortunes told.  Or maybe we could get away with a hot air balloon ride or spa weekend.
Me?  I'd be happy with some old-fashioned jelly and ice-cream.  So long as I can keep the balloon, mind.