I don't know whether it's the general mess, the responsibility of helping mummy or the fun of licking the bowl out after mixing but baking is the most frequently requested activity in our house.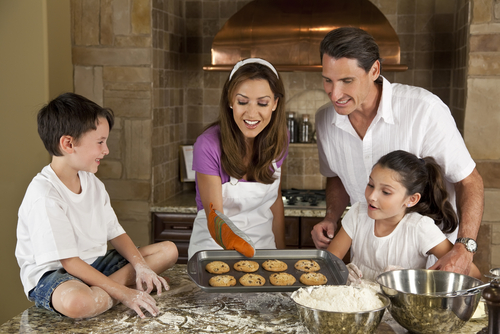 My childrens' absolute favourite type of baking is the kind that involves rolling out cookie dough, choosing a biscuit cutter and cutting out trays and trays of little dough people, creatures or shapes.  I totally empathise with this desire, since I personally find nothing more soothing after a frenetic day than knocking about in the kitchen.  But the control freak in me sometimes finds it hard to deal with the imperfections and frustrations that cookie cutting with kids involves.  1-armed gingerbread men or 4-pronged stars can be a rather unsettling scene.  This kind of baking is best undertaken when I'm in a very Zen mood or on a rainy weekend afternoon when I know it will keep the babes engrossed long enough for the weather to let up.
But for a quick, after-school spot of baking before homework or supper, I bring you the best Chocolate Biscuit Recipe Ever.  Only five store-cupboard ingredients, hardly any mixing and crumbly, chocolatey deliciousness in every mouthful.  I let my children measure the ingredients out themselves (subliminal Maths lesson…) but you may like to exercise some parental assistance, depending on your child's kitchen confidence.
You'll need:
300 g self-raising flour
30 g good cocoa powder
250 g unsalted butter (at room temperature)
125 g caster sugar
100 g chocolate chips
Then:
Pre-heat the oven to 170C and have some greased baking sheets at the ready.
Tip the flour and cocoa into a bowl – through a sieve if you like (makes it more fun for children as its another bit of kit to use and does make for a finer dough)
Cream together the soft butter and sugar.  Although your children will enjoy mixing with a wooden spoon, you may need to step in and cream the ingredients together thoroughly yourself.
Add the flour and cocoa, a spoonful at a time.  I usually supervise the mixing at this point and let each child take it in turns to spoon the cocoa flour into the bowl.
Once it starts to resemble dough, tip in any chocolate chips that haven't already been scoffed by tiny hands.
Now you're ready to make your biscuits.  We use a scoop with a squeeze-action handle (£11.50 from The Pampered Chef to grab little balls of dough and deposit them easily on the baking sheet.  But you could use a teaspoon and roll the dough into little balls in your hands.
Flatten your cookie rounds with the back of a fork and pop in the oven for 5 minutes (best to set a timer).  Then turn the oven down to 150 C and cook for another 10 minutes, or until the mouth-watering smell of baking biscuits is wafting through the house.
Transfer to a mesh rack until cool enough to eat.  In our house this is approximately 1.5 minutes.  If the biscuits seem a bit crumbly as you scoop them off the baking tray, don't worry, they'll harden as they cool.  Makes enough to fill an average sized biscuit barrel, for a short while anyway…