French toast is a prerequisite for any proper weekend breakfast. But to make it fully family-friendly, you'd need to forgo the very (decadent) stuff that makes it so delish.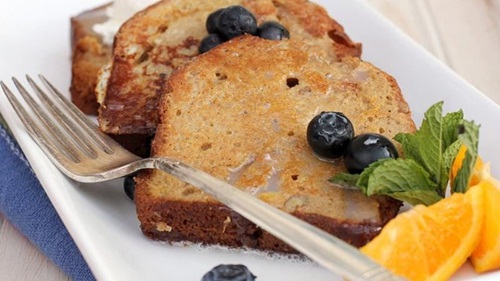 But wait! There is a way to whip up this classic brekkie that'll pack a nutritional punch, avoid the naughty stuff, and taste TERRIFIC.
Enter banana French toast: no sugar; just the natural goodness from fruit – and fried in gut-healing coconut oil. Plus, a perfect dish for lil' hands to grip and gobble with ease!
To start your morning off right, check out this speedy recipe:
Ingredients
5-6 slices wholemeal bread (substitute with GF if preferred)
2 large, very ripe bananas
2 eggs
75ml full fat milk (substitute with dairy-free alternative if preferred)
1 tsp vanilla extract
Cinnamon, nutmeg, allspice
Coconut oil
Instructions
1. Mash bananas well with a fork. Whisk in eggs.
2. Add milk slowly – enough to create a creamy (not sloppy) texture.
3. Add vanilla and spices to taste.
4. Heat pan with a generous tablespoon of coconut oil.
5. Dip each side of the bread slices in mixture for a few moments – the bread should absorb the mixture, but not so much that it falls apart when you lift it out.
6. Fry until golden and fragrant.
Sweet enough without syrup, simply sprinkle with a little extra of your favourite warming spices, and serve with a side of yummy fruit.
Recipe blogger's own; image via BettyCrocker.com