Now that the season of hacking and carving is officially over, you'll no doubt have a glut of pumpkin guts to make use of. Transform your ghoulish gourd's remains into something gorgeously delicious — a toasty batch of pumpkin choc oat bars drizzled in dark chocolate.
Great for little monsters – and big ones.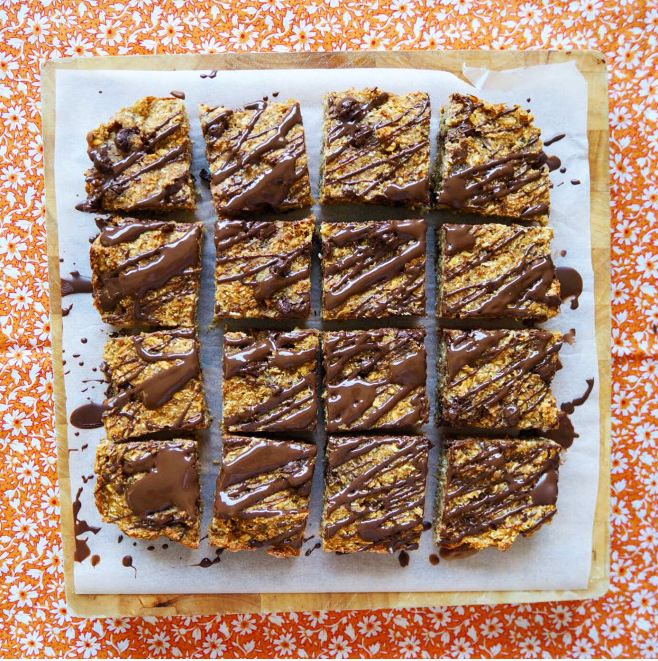 Packed full of goodness, free from refined sugars (naturally sweetened with mejool dates, maple syrup and the pumpkin itself), plus studded with warming spices, this recipe is the perfect way to end off the trick-or-treat festivities on a healthy note.
And it's seriously simple, too: just blitz all the ingredients in a food processor, and bake. DONE.
Note: These bars do contain an egg.  However, if your little one is allergic, replace the egg with one mashed banana.  The banana will lend the bars the same binding qualities necessary. Also; the flour and oats can be substituted for gluten-free versions.
*makes 16*
INGREDIENTS
1 1/2 cups (340 grams) cooked (roasted or steamed – but roasted will be sweeter and more flavoursome) pumpkin
1/2 cup (125 ml) milk – non-dairy alternatives are fine, too
6 medjool dates, pitted
1/4 cup (60 ml) pure maple syrup
1 egg (or 1 banana, mashed)
1 teaspoon vanilla bean paste
1 1/2 cups (225 grams) wholemeal (wholewheat) flour
1 teaspoon baking powder
1 cup (90 grams) oats
1 cup (80 grams) desiccated coconut
1 teaspoon cinnamon, ground
1/2 teaspoon nutmeg, ground
1/4 teaspoon ginger, ground
3/4 cup (90 grams) dark chocolate chips (or chopped)
METHOD
Preheat oven to 170 degrees Celsius (330 F) and line a 20cm x 20cm tin with baking paper. Place the pumpkin into the large bowl of a food processor and blitz until finely pureed. Add the milk, dates, maple syrup, egg and vanilla bean paste and blitz until finely pureed. Add the flour, baking powder, oats, coconut, cinnamon, nutmeg and ginger and pulse to combine. Fold through 1/2 cup of the dark chocolate chips. Evenly spread the mixture into the prepared tin. Bake for 15-20 minutes or until golden and set. Place the remaining 1/4 cup of chocolate into a microwave safe bowl and heat on high in 15 second intervals (stirring in between) until melted. Place the cooked bars onto a wire rack, drizzle with melted chocolate. Allow to set. Cut into 16 squares and enjoy.
Recipe (adapted) and image via mylovelylittlelunchbox.com.