If I had to depict the seasons as food, I think butternut squash would be the edible equivalent of autumn.  Its warm, orange flesh and sweet, creamy taste just sum that delicious season up to perfection.  It's also extremely good for us, being low in fat and containing complex carbohydrates as well as high levels of vitamin A, vitamin C, potassium, manganese and fibre.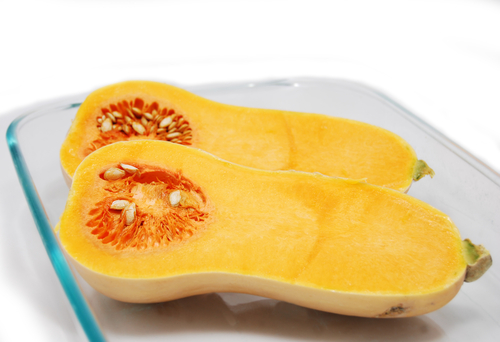 Babies seem to universally love the flavour – just peel your squash and chop into chunks to boil or roast.  Puree when cooked and serve warm, with buttered toast fingers for your baby to dip into and suck on.
It makes a tasty meal for older children too and is the star ingredient in one of my foolproof autumn/winter weekday suppers – butternut squash risotto.  It's the thing I turn to whenever I want ease, comfort and nutrition in a bowl.
Ingredients:
Butternut squash
Olive oil
Garlic clove
Arborio or carnaroli (risotto) rice
Low-salt vegetable stock
unsalted butter
Freshly grated parmesan cheese
Method:
Slice a small butternut squash in half, remove the seeds (you can roast these later, with a little soy sauce, to make a tasty snack) and lay it on a roasting tray, cut side up.
Brush the flesh of each half with olive oil, crushed garlic and a little salt and pepper (babies under 1 should not have added salt).
Roast in the oven until very soft (45 minutes at 180 C).
Once soft, scoop the flesh out from the skins (which you can discard) and roughly mash.
While the squash is cooking, cook some risotto rice in some vegetable stock.  You basically need twice as much liquid as rice so for two children I usually do half a cup of rice and a cup of water.
Once the rice is cooked, add enough mashed squash to taste (I like to turn my rice bright orange so add lots!) and a knob of butter.
Serve with some grated parmesan (has to be freshly grated though – those little packets of grated parmesan are no better than sawdust) or cubes of goats cheese if your child will let you!
Final tip, risotto is best eaten fresh but if you have leftovers (and I'd be surprised if you do…) shape into individual risotto cakes that you can fry up for lunch or supper the following day.  Or for your own supper later that evening perhaps!