Camping is one of those activities that kids love, but parents are sometimes less enthusiastic about. We miss the comfort of our own bed (and loo!) and wonder why you'd trade it for a night on the floor in the cold. But, this year especially, it's great to find budget friendly ways to get out for adventure, and camping is the perfect way to have a great staycation!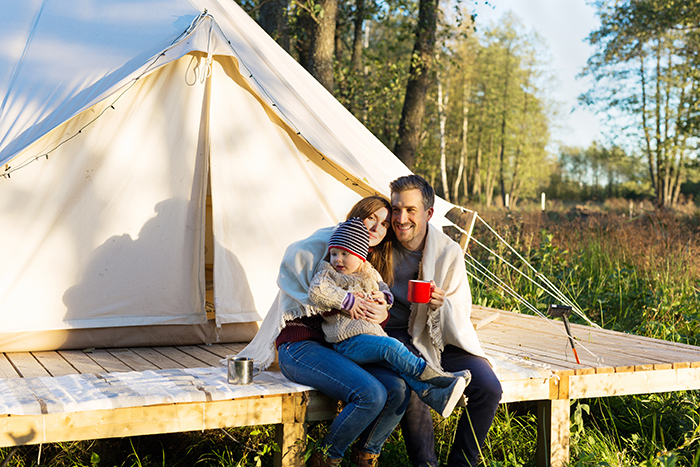 If the mention of camping is met with groans from your family, here are some ways you can make your stay in a tent a little more luxurious!
Lighting
No matter where you're camping, at home or somewhere further afield, a few twinkly solar-powered lights can make it warm, welcoming and magical for your children. Make sure you hang them outside during the day so they can soak up the sun's rays, then enjoy the soft lights as you drift off to sleep.
Set a table
Setting up a nice place to eat will make you all feel at home (although some may prefer the rustic side of staying in the great outdoors). A simple tablecloth, placemats and pretty napkins can transform your camping dinner experience from makeshift to fancy!
Seating
Comfy chairs may seem a bit extreme for a camping trip, but why not bring a little more luxury to your stay than fold away ones? You can get a wide range of inflatable furniture these days to make your stay far more comfortable.
Cosy bedding
Rather than sleeping bags, take your own duvet, blankets and comforters away on your camping trip – you'll be amazed at the difference it will make to your stay! Even if you just bring old sheets to go over your camping bed or a blanket to go under a sleeping bag, you'll feel so much cosier and more refreshed in the morning after a good sleep. Don't forget pillows too – waking up without an aching neck will make your whole trip so much more enjoyable.
Bring something fun!
Pack plenty of fun things to do on your trip. You never know when the weather might turn, or your little ones might get bored and restless. Classic card games such as Uno and Old Maid are a must, but you could even bring along a portable DVD player to have movie nights in your newly cosy tent.
Camping loo
If you can, it's worth thinking about investing in a camping toilet. Although it's fun to wander around by torchlight, if your little one is desperate in the night it's far easier to pop them on your own loo than navigate your way around the campsite.