As a new mum, every day can be a juggling act. Trying to get to grips with a new little human in the house is tough enough, let alone trying to remember all the things you need to take with you when you venture out.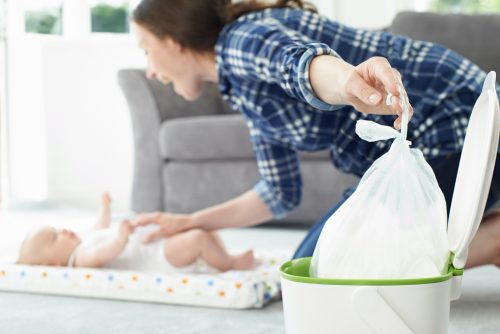 Ease the pain of worrying about every eventuality that a day out (or just a quick visit to the shops) with a little one may bring, by having a well-stocked changing bag, that's ready to go when you are. And, replacing items as you use them will mean your changing bag is topped up at all times.
Nappy rash cream
Even on the go, you'll want to keep your baby's changing routine the same. Sudocrem Care and Protect is a versatile cream that contains soothing ingredients, to help prevent nappy rash. The best part is that it can be used at every nappy change, to help protect your baby's delicate skin!
Nappies
Sounds obvious, but it's best to keep four or five in your changing bag if you can. You never know when you're going to be treated to a nappy explosion half-way round the supermarket, or two. And, of course, nappy bags to ease the aroma for the next visitor to the baby changing room!
Wipes
From bums to faces, from sick on your shoulder to coffee in your lap, one might wonder how we ever survived without these life-savers before our little ones came along.
Changing mat
Most modern changing bags come with a reusable changing pad. But, if yours doesn't, a hand towel from home will do just the job to make a changing surface more comfortable for your baby's delicate skin.
Bottle
If you're bottle feeding, take a ready-made bottle with you – most places will offer facilities to heat it up.
Comforter
If baby has a dummy, keep a spare in your changing bag so you don't forget it. You could always try to introduce two favourite blankets/teddies too, so you can keep one in your changing bag and you'll not be without it.
Extra clothes
Sick, poop and dribble WILL happen when you're out. And babies don't mind at all where it ends up! A spare change of clothes is a must!
Some parents have found two changing bags work well – a small one for quick trips and a bigger one for longer outings. You might even find a tote bag or backpack works better for you to keep all your changing bag essentials in.