If pastel, powder and pink is not really your thing, check out the By Carla range of contemporary products for baby's nursery including blankets, sleeping bags, and cot accessories, which are in fun, bold prints.
The multi-coloured hand- and footprints (Playtime range) are totally cute – in primary colours red, blue and yellow, as well secondary colours purple, green and orange, the bright prints are über funky!
The Nougat range, consisting of black and white stripes, is also totally cool. Not forgetting the bumppies with black and white check/smiley face/swirl design.
The blankets are my favourite By Carla product; made of super-soft, reversible cotton and faux fur – I wish they were big enough for adults!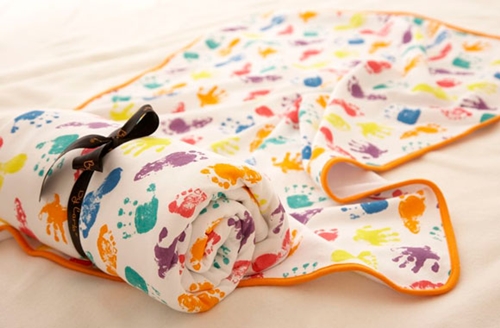 These contemporary products for baby's nursery's unisex colour pallets comprising By Carla products have been chosen to suit the modern family. The prints are vibrant and different, but were designed to fit in with the lifestyle choices of contemporary parents.
By Carla has a strong link with Early Years Professionals who are consulted throughout the year on projects aimed at encouraging the interaction between parent and child, as well as aiding a baby's developmental needs.
For more info on these awesome products, visit Bycarla.co.uk.