Whilst a very common procedure, having a Caesarean can still put tremendous strain on your body and recovery isn't always discussed openly and honestly. It is, after all, a major surgery that happens right in the middle of one of the most emotional experiences of your life. Here are some tips on how to help your recovery, both physically and mentally.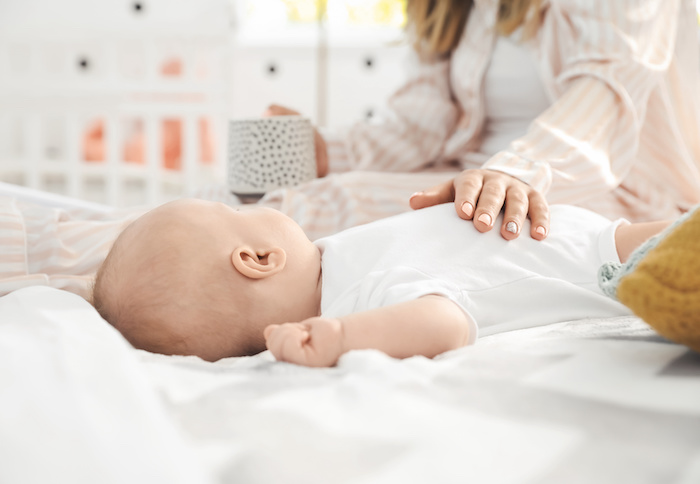 Control the Pain and Avoid Infection
Your midwife will tell you of ways to control any pain for the few weeks after you have had the Caesarean. Make sure you follow this advice and don't be afraid to take whatever help you're offered. If you're breastfeeding, double check which medications are suitable for you and how you can manage pain safely for both you and your baby.
You will also be told how to clean the wound and spot signs of infection. This is really important, so make sure to listen carefully to this advice. Don't worry too much about infection, but keep an eye out and know what you're looking for. Don't be afraid to ask again at any point if you have any questions.
Mum top tip: Once your incision has started to heal and you've had the okay to wash the site from your midwife or doctor, a warm bath can help you to relax and alleviate discomfort.
Mum top tip: If you need to cough or sneeze, press a pillow against your wound and lean forward to help with the discomfort of this.
Take Things as Slow as Possible
This is easier said than done (there's a baby to look after, after all!), but you should try and take it as easy as you can after you have left hospital. Don't be afraid to ask for help in carrying or lifting things, don't take on too much and ask your partner for help with even the most basic things if you need it.
Make sure to have a conversation with your partner so they understand how much help you may need and what your limits will be, and they may need to discuss the possibility of taking extra paternity leave if they're able. If your c-section is planned, try to make these plans beforehand so things run a bit smoother afterwards. If you're a single parent, talk to a family member or close friend in your support bubble about the possibility of them staying with you to help for those first few days to help out.
Mum top tip: get yourself some big 'granny' style pants! They might not be glamorous, but they're much more comfortable and won't interfere with your wound.
Look after your mental health
Most important of all, always remember that you are recovering from major surgery and if you are concerned about anything, ask for help. Talk to your support network and be open and honest. Don't be afraid to contact your midwife or doctor with even the smallest doubt.
Remember that your body has made it through a tough time and given you a beautiful little one safe and well at the end, whether that happened vaginally or with some help. Having a C-section can take a toll on a lot of women's mental health, so if you're struggling with negative thoughts and feelings open up to your partner or friends and family about this, and never be afraid or ashamed to speak to your GP about your mental health.