When you just have one child to care for, life as a full-time mum is manageable, if busy.  Before my son came along, daily life revolved entirely around my firstborn.  I'd take my daughter swimming or to a baby music session, then, while she had her post-lunch sleep, I'd get on with a few jobs and enjoy a bit of me-time.  Our afternoons involved more baby-focused activities – a playdate with a little buddy or cycle to the park.  Come the evenings, I'd have time to catch up with the ironing, e-mails or even, God forbid, my husband.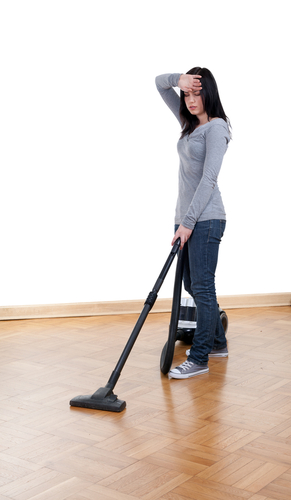 Then just before her 2nd birthday, little brother came along.  And although Big Sis still took a daytime nap, it didn't coincide with a newborn's sleeping regime.  Consequently, I had no down time in the day and, along with a baby's feeding demands and an active toddler to amuse, I was too exhausted to do anything once they were tucked up for the night.  Household chores soon piled up and, short of getting a live-in housekeeper, I quickly realised a new strategy was needed.  I was going to have to devise a way to involve my children in the daily chores, without them wreaking havoc or accusing me in later life of child labour.
Sounds boring doesn't it?  Even a little Victorian.  But with some imagination, I found ways to make the most mundane chores seem fun to my baby and toddler.  My daughter especially loved feeling useful and playing 'Little Mummy', while the baby was suitably entertained seeing us scurrying about around him and joining in at his own level.
Here's some suggestions for your own domestic juggling act:
Washing
Tip out the laundry basket and have a race to sort out the whites from the coloured clothes.  Give a prize to whoever's washing mountain is the highest.  You could also give the activity a mildly educational angle by asking your child to name the colours of different items as you sort.
Once the basket is empty, pop your child inside and reward them with a ride round the room – or if you've got more than one little helper, let them take it in turns to push each other round in the empty basket.
Sorting Laundry
Toddlers find it a real giggle to pull clothes out of the tumble dryer.  While you fold clothes that need ironing, get your little one to match patterned socks together or make piles of underwear.  Pass babies interesting textiles to explore – a fluffy flannel to suck on or spotty hankie to wave.  And don't forget to give animated running commentary throughout as this helps their language development.
On sunny days, put your little helper in charge of the clothes pegs and get them to hand to you as you hang up the wet garments.
Making the Bed
Most children get undue pleasure from bouncing on beds.  Not something that's great for the longevity of your mattress but, now and again, it probably won't cause too much damage.  This simple fun can easily tip into hysteria if you chase them round the bed, stripping sheets as you go.  While they bounce, you can quickly change a duvet and pillow set.  Then drape the dirty linen over furniture for them to play camp while you put the clean sheet onto the bed.  They'll never even realise how busy you've been.
Cleaning
Children love to mimic Mummy so when you're wiping down kitchen or bathroom surfaces, give your child a damp sponge or cloth and let them copy you.  You could even fill an old spray bottle with water for true authenticity.  You never know, they may even prove quite helpful!  Likewise, a child's broom and dustpan set can come in equally useful.  I like the sweet wooden broom and tin dustpan from Myriad (http://www.myriadonline.co.uk) for pint-sized functionality.
Washing-up
Generally speaking, emptying or filling the dishwasher is a little tricky for most toddlers – unless you are very laid back or have nerves of steel.  A good compromise for older children desperate to help is giving them the job of sorting cutlery…but make sure any sharp knives have been removed first!  Alternatively, ask your toddler to hand you objects for you to put away.
If you don't mind the fall-out from a bit of splashing, fill a washing-up bowl with water and mild detergent, give your child a scrubbing brush and let them practice washing-up some unbreakable dishes or saucepans.  At the very least, it'll give your dishes a good pre-soak.
Cooking
Toddlers and babies are endlessly fascinated by kitchen implements.  You can either give them some interesting ones to explore (whisk, masher, wooden spoon) or let them do play-cooking with a big bowl of dried pasta and beans while you get on with the real meal.
Although the kitchen is a fairly hazardous place for young children, there are still some tasks you can let your child help with: separating paper muffin cases into tins, stirring batter, tipping ingredients into weighing scales (with your help!), buttering bread and sprinkling decorations onto cakes.  For full authenticity, equip them with a mini chef's hat too, such as this adorable one from www.thepresentfinder.co.uk.
Alternatively, set your child up with some Play Doh or Plasticine for them to make their own pretend food.  Equipping a 3 year old with biscuit cutters and a rolling pin will keep them occupied for a good 20 minutes.  Don't forget the apron! (Cath Kidston makes particularly sweet ones for boys and girls, £12 www.cathkidston.co.uk).
Gardening
This is another area that warrants giving your child their own version of scaled-down tools that actually work (find them at www.greatlittletrading.co.uk).  Watering cans are a must and a bucket for collecting sticks and stones in will also come in handy.
A little shovel is great fun but be prepared for the subsequent creation of mud pies.  If you have a cement patio or driveway, let them make chalk drawings while you wash the car or polish windows.  And I don't know a child alive that isn't filled with excited wonder at planting seeds and watching them grow.  'Hairy' cress in egg shells with painted faces is particularly hilarious.
Grocery shopping
Young children enjoy helping out with shopping but this works best with groceries as most other food is either too spillable or breakable.  Ask your child to pick out an apple, potato or tomato and count out the quantity you need.  Or, with an older child, show them your shopping list and help them spell out the item you want them to find.
Trolley-rides make a good reward for your helpful assistant.
So there you go. It's not a finite list and my suggestions won't work for everyone.  But the principle of incorporating everyday chores into life with children should make the daily grind and being a hands-on mum a whole lot easier.  And maybe even free up a bit of me-time.