With summer seeming like a distant memory already, we have the winter months ahead of us, which more often than not means rain. (Mind you, summer's not that much different!)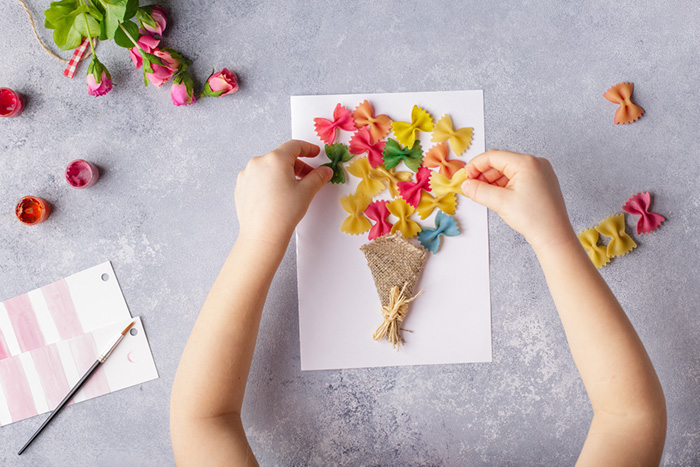 So, as you may well find yourself housebound and quite possibly tearing your hair out trying to think of ways to entertain your small people, here are a few fun crafts that may ease the pain of a dreary, wet day.
Make sock puppets
Simple, easy and loads of fun, sock puppets are a great way to get your little one's imagination going. All you need is some old socks of various colours, something to stuff them with (cotton wool works well) and googly eyes if you have them, or a felt tip pen if you haven't. You can while away a good bit of time making the puppets and even put on a show when they're done.
Pasta play
From creating beautiful pictures to making music, dry pasta is a cheap and cheerful way to keep kids entertained. Use different shapes to create pictures of flowers, animals, or vehicles, or put various sizes of pasta or rice in empty plastic bottles or cups to make fun instruments.
Make paper people
Cut out people shapes using paper or card and create characters. If you have a craft box with eyes, etc. then great – if not, you can cut out other shapes of paper to stick on features or clothes, or just use crayons or felt tips. From fairies to superheroes – the possibilities are endless and boys and girls of all ages can enjoy this simple rainy day craft.
Loo roll wonders
You can make almost anything with the cardboard inner of a loo roll. Rather than recycling them, start keeping them so when you have an indoor day, you'll have a ready stash. Think superhero cuffs decorated with shiny tin foil, think rockets, think telescopes, think cute animals and Halloween and Christmas decorations – it's amazing what you can create from a simple cardboard tube, and how much fun little ones will have doing it.
Handprint art
Another simple yet great activity is making pictures from handprints – plus the kids get to have some messy fun with paints too! Make a handprint with paint on a plain piece of paper, then add shapes and other items to create animals, vehicles, people or anything else you can think of. Some easy ideas are using the handprint for duck or bird feathers, a beard for a man and the body of a fish.