Children love being outside and it's such an important part of their development, at all ages. There's a world of fun, play and learning just waiting to be discovered, and you don't even need to leave your garden for your children to explore it!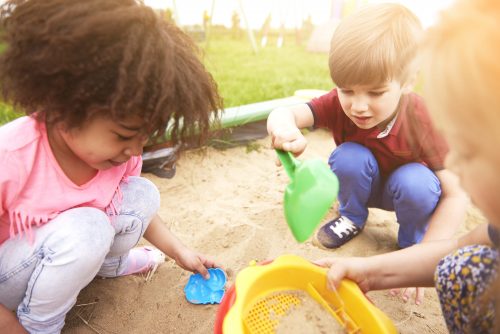 Get digging
Use sand to bury toys and watch your children dig and sweep away through the sand to discover their hidden treasures. You can make a simple sandbox with wood and play sand or create one using a large bucket or washing up bowl. Use different themes – such as farmyard animals, dinosaurs or seashells to give them a new surprise each time!
Music making
When little ones bang on pots and pans indoors, it can be headache inducing. So take all that noise and energy outside! Take loud kitchen tools and utensils outdoors and let your baby make their music. Attach your makeshift instruments to something stationary in your garden – like a tree or a fence – or move them around the garden onto the grass or patio, so your child can hear the different kinds of sounds they make.
Treasure hunt
It doesn't have to be Easter to go on a hunt and collect a basket full of goodies! Hide treats or small gifts around your garden for little ones to find. You could make clues for older children, such as drawings or pictures of where the treats may be, or even written riddles if they're able to read. Invite some of their friends along to enjoy the fun and watch them play.
Mud, glorious mud
If you're brave enough… make a mud pit and let your children make mud cakes and pies. An old wheelbarrow is an ideal way to create a mud pit without ruining your lawn. Simply add mud and water, give them some buckets, plastic tools, plates and cups, and let them get creative – and messy!
Water wall
Create a cascading waterfall by attaching old plastic bottles, pipes, tubes and funnels to your fence or a free-standing wooden or plastic structure. Kids will love pouring the water and watching it flow through the obstacles to the bottom, and it's a great way to keep them cool on a hot day too!