If you're in a bit of a flap about what to crochet next, or a complete beginner wanting something to get you hooked, then Edward's Menagerie: Birds is the book for you. The follow up to Edward's Menagerie, the bestselling crochet title of 2014, these 40 crochet patterns for soft toy birds make a great activity for budding crafters and the finished product makes the perfect gift for children!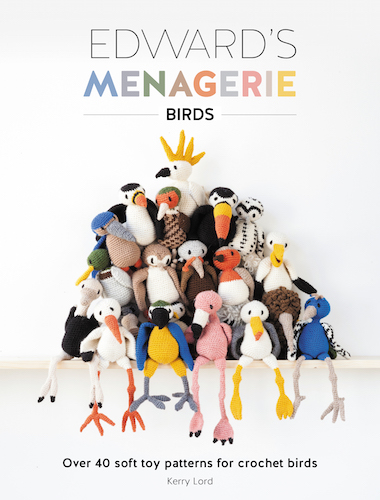 Published by David & Charles, this flighty craft book is now available to buy direct from http://www.thetoftalpacashop.co.uk, as well as independent stockists, priced £15.99.
You'll be happy as a lark as you crochet your way through this colourful world of birds. From Florian the Ostrich 'who works in fashion' to Tricia the Silkie Chicken 'who is a middle-aged, self-employed aerobics instructor thrilled that so many women are still so bad at getting fit and staying thin', each bird has its own kooky name and personal backstory.
Once you've read about their likes, dislikes, daydreams and delusions, you can get a sense of their personalities; then you can crochet a bird for each of your family and friends.
Kerry lives with her husband, son (Edward) and dog in Leamington Spa, Warwickshire. As well as a talented craft writer and pattern designer, Kerry is also the founder and creative director behind the TOFT luxury yarn brand and the TOFT Alpaca Shop – a craft workshop and coffee shop located on her parents' alpaca farm.