Halloween tends to be a holiday claimed by that great big U.S of A. But judging by the Halloween paraphernalia smuggled into the last few feet of the recently erected Christmas isles in shops, Halloween has managed to stake a spot in England.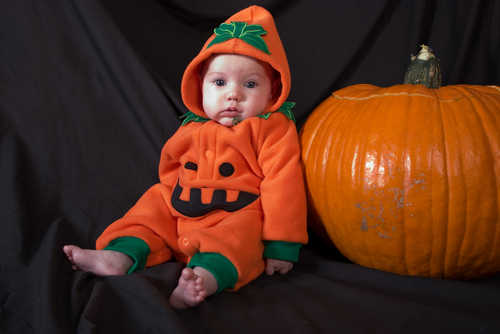 It is such a fun holiday for children to celebrate – of course carefully omitting the potentially age-inappropriate elements that are likely to scare children and run amuck in fertile imaginations. Halloween is a festival of orange, purple, pumpkins and sweets, and who needs e better excuse to dress their children up, make delicious food and throw a party? Certainly not me. I can't wait to dress my baby girl in her first Halloween costume. I am definitely going for a pumpkin, so that will naturally be number one in my top five most accessible Halloween costumes for 2010 – check out the rest:
1.    Halloween Pumpkin from Mothercare , which does some really cute baby costumes including a baby witch costume, a skeleton, a little devil and even a black kitty cat.
2.    Baby Spider from Marks & Spencer ; also cute at M&S are the baby vampire costumes for boys and the ladybirds for girls.
3.    Frankenstein baby costume from Asda , which costs only £6. Other baby Halloween costumes retailing for the same price include fairy, spider, skeleton and pumpkin costumes.
4.    Pumpkin bootees from Sainsbury's ; the retailer is which paying tribute to its orange branding by sticking to the baby pumpkin costume this year.
5.    Spider from Tesco , which is offering a 20% discount on baby Halloween costumes if an online order is placed.