British children cannot survive the country without a pair of lovely wellies. Soggy ground and puddles-a-plenty are all too tempting for little feet.
But what about a pair of snuggly boots for home (and anywhere void of puddle and marsh – if there is such a place in our rain-drenched land of loveliness)?
Emuaustralia has some super cute winter boots for children. The brand is Australian born and the boots are made from sheepskin and merino wool.
The signature boot for children is Wallaby Lo; it's a mid-calf height boot that also features EMU suede branding, double stitched seams, moulded heel cup and a hardwearing rubber EMUsole. It's quite a plain boot, which comes in sic different colours. Similar in style the Wallaby Mini is just a bit shorter than the Wallaby lo.
But if you'd like something with a little more personality, there are some funky options: the blue Wallaby Printed Lo features a locomotive print, Karmarama in aubergine has hearts on it, the Croc and Clown Fish styles are adorable, and the black and red Lady Bug is my favourite!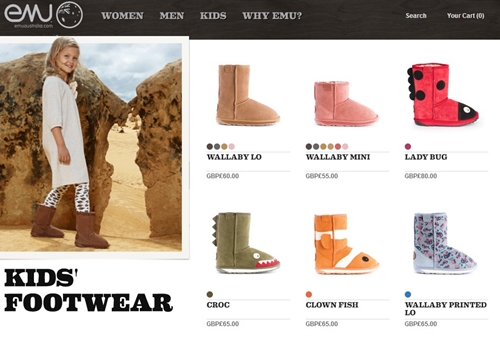 Celebs love Emu boots and celebrity children belonging to stars including Denise Richards and Gwen Stefani have been spotted wearing the brand. But with 'celebrity', usually comes a pricier price tag.
The winter boots for children aren't cheap; the Baby Bootie costs £30 and the most expensive in the children's range is £80 (yes – I would have to go and like the most expensive one!).
Annoyingly, children grow – rather rapidly; the resulting question is whether you're inclined to spend a whack of cash on something that will last only a short while. Perhaps there is no price on quality and comfort?
Visit Emuaustralia.com to check out the winter boots for children.