Get creative with nature's art supplies! Collect pinecones before the winter chill sets in and get to work transforming them into super-adorable, woodsy critters…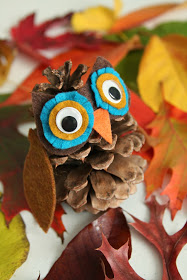 Use this pinecone 'owlie' tutorial as inspiration to create an entire menagerie of forest friends (or a family of owlies!).
You'll need to supervise and assist kiddies with this activity due to the tools required:
Supplies:
large pinecones
felt (5 colours)
googly eyes
scissors
hot glue gun
stapler
Instructions:
1. Cut out your felt, using a different colour for each feature –
2 wings in a leaf-ish shape (2 3/4″ long/1 1/4″ at widest point)
beak (3/4″ wide x 7/8″ tall)
face/ears (2 3/4″ wide x 1 1/2″ tall at highest point)
2 large eye circles (1 1/4″ round)
2 small eye circles (7/8″ round)
2. Hint: depending on pinecone size, your measurements may differ from the above.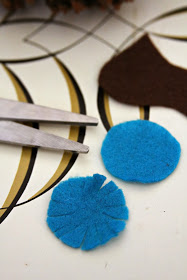 3. Next, snip the largest eye circles all the way around, as pictured.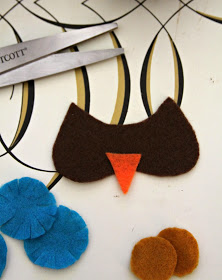 4. Attach the beak to the face using glue gun.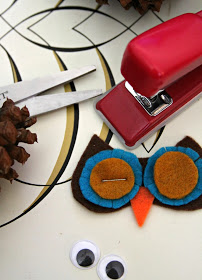 5. Then layer the felt pieces as above and staple together. (Alternatively, use the glue gun.)
6. Stick on the googly eyes with hot glue. Make sure you apply glue directly to felt – not the back of the eyes – as the glue gun tip will melt the plastic.
7. Lastly, attach the face and wings to the cone using hot glue.
8. Once finished, let kiddies use pinecone birdie as a festive decoration – add some glitter! – or as a prop for pretend play.
Via whimsy-love.com