We've all been spending a lot of time at home recently, and this past term the kids have been back at home again. By this point, with the best intentions of Lockdown 1 being a distant memory, you may be struggling to stick to a routine with your kids, or give them enough structure in their day. That's why we've got some tips to help you keep a daily routine with your kids at home, whether that's working from home or home schooling or during the holidays.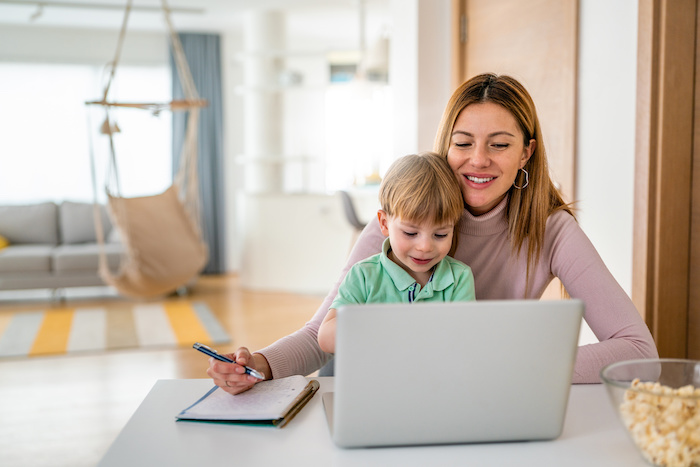 Ignore everyone else
The first thing to do is to totally throw out any expectations you've given yourself by seeing other people's perfect home school life on social media. Ignore what everyone else is doing and don't compare yourself. Just because their routine looks great, it doesn't mean it would work for your family and it doesn't mean they're not struggling as much as you behind the scenes. Make sure to create a routine that works for you personally.
Morning routine
With no travel, it can be very tempting to stay in bed until the very last minute, but this can make the mornings feel rushed and pressured. Make sure to get up at the same time as you usually would if working or doing the school run. Get yourself and your children properly dressed, don't stay in your pyjamas.
If this gives you some extra time in the mornings without any commute to work or school, that's a great opportunity to spend some extra time as a family – sit down together for breakfast or do some light exercise such as yoga.
Set goals
Draw up a set of goals for the day to give everyone something to aim towards and provide structure to the day ahead. Don't overwhelm yourself but write up a list of accomplishable tasks and chores to do throughout the day. Try to pick a couple of chores the kids can help you with so they also have some goals to complete throughout the day and something to aim for – this is particularly great if you've got a chalkboard or white board, so everyone can see what they need to get done.
Set daily tasks
Cultivate daily tasks for the kids, some small responsibilities that they can take on. Perhaps get some plants so your children can take turns watering them. If you've got a pet, hand the feeding responsibilities over to your child. If they've got a task that they need to remember to do at the same time every day, this can help to give them some structure.
Structured time
A key part of forming a good at home routine is to make sure your day is divided into separate chunks. Have a separate morning routine, then a school routine, a distinct lunch time, some activity/homework/chore time in the afternoon. In the evening after dinner, make sure to have a separate bedtime routine with baths and reading time. It's important when spending most of the day inside your home to not let different sections of the day run into each other – particularly with work. Don't open your computer until it's time to work, and when work is over be sure to close your computer and set boundaries so you're not dragging work into your children's evenings just because all your work is happening at home.
Separate work and school from home life
If you're able to, it's really great to make sure your work and school area is in a separate place to where your downtime happens. This is so you and the kids can walk away from your work and not feel like you're still stuck in the classroom/office. If this isn't possible, spend a few minutes at the end of the day tidying away school and work things, so that again, you can create distance between your work and downtime.
Leave the house
If you can, it's really beneficial to make sure you and the children leave your house every day, just for some fresh air and exercise. This can help to control the cabin fever, give you all an opportunity to use up some energy, and give yourself a change of scenery. Even if this is just a short walk, or a quick trip to the park so the kids can run, that's great. There doesn't need to be a destination, just get away from screens and devices and out of the house.