A baby's palate may be unrefined, but that doesn't mean you need to keep things bland. For a far-from-ordinary, gorgeous purée that works solo or swirled into yoghurt or porridge, try infant nutrition specialist Alice Fotheringham's simple and seasonal apple, apricot & cinnamon recipe.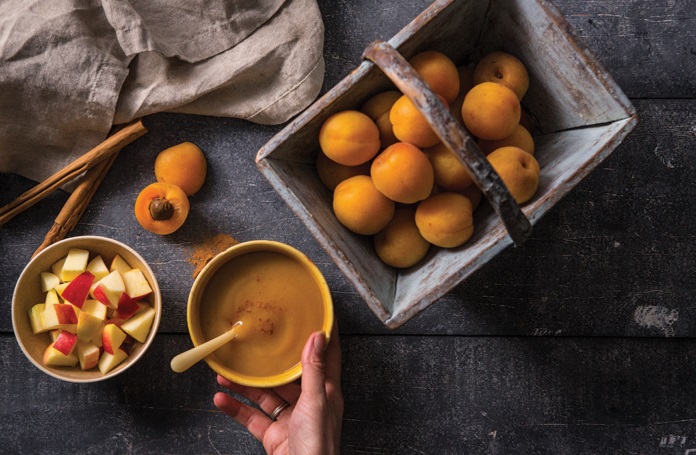 Let your baby's intro to the rainbow world of first foods extend past the usual banana boredom: sweet apples blended with tangy apricots, piqued by a sprinkling of spice will make for a bowl of all things nice. And of course, the fruit 'n' spice combo is bursting with nutrition, including Vitamins A, C, dietary fibre, and antioxidants.
MAKES: 4 portions
Suitable for freezing
Ingredients:
200g (around two) organic apples, peeled and cored
30g (about 2 small or 1 large) fresh ripe apricots, peeled and cored. Alternatively, you can soak unsulphered, dried apricots in a bit of boiling water for 15 minutes
Half tsp cinnamon
Method:
Chop apples into chunks, blitz in a blender or food processor until smooth.
Add in apricots and cinnamon and pulse. Continue to pulse until smooth—or leave a bit chunkier for more texture for older tots.
Spoon into an eager little maw, or swirl into oatmeal or full fat Greek yoghurt (even smooth onto a buttery English muffin for Mum!).
Via babylondon