Nature's Day is a lush, enchanting foray into the world on our doorstep – a veritable garden of delights whose verdant magic will intrigue and inspire; just as much as it yields worthy environmental education.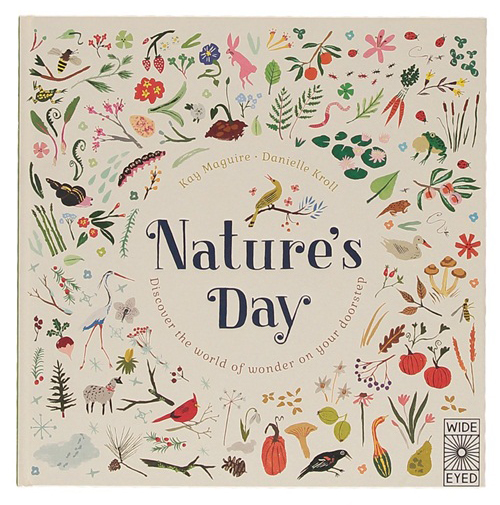 Penned by Kew-trained author and expert gardener Kay Maguire, and illustrated by renowned artist Danielle Kroll, Nature's Day is bursting with botanic and animalia treasures. Gorgeous painted artwork paired with simple, yet informative text explores the seasonal changes in flora and fauna in a variety of beautifully rendered settings.
The book takes you on a guided walk through nine different environs, including the expected backyard, orchard, and the woods, to the less obvious ecologies of farms and, most surprisingly, suburban streets.
By revealing nature in such varied contexts, the author brings the seemingly distant, exotic kingdoms of plants and their attendant creatures in closer proximity than many encyclopaedias; and the knowledge contained within Nature's Day is made accessible and meaningful to families everywhere – even those in urban areas.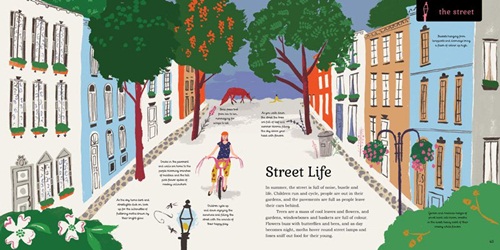 Not only is Maguire and Kroll's book an object of inarguable aesthetic appeal (the cloth cover and interior design reminiscent of a flower press alone make it an exquisite gift book) but it also achieves an impressive feat; introducing a non-fiction subject to young ones in a way that truly captivates.
In a time increasingly dominated by technological distraction, Nature's Day is a breath of fresh air — sure to cultivate an early love for the natural world, and inspire little readers to take to the outdoors once they've reached the final page.
Buy the book at Amazon.co.uk