Kids love Halloween, but it can be an expensive time of year for parents – from costumes to treats, parties and decorations. So, why not take the opportunity to get creative with your little ones in the run up to 31st October and make some DIY Halloween decorations?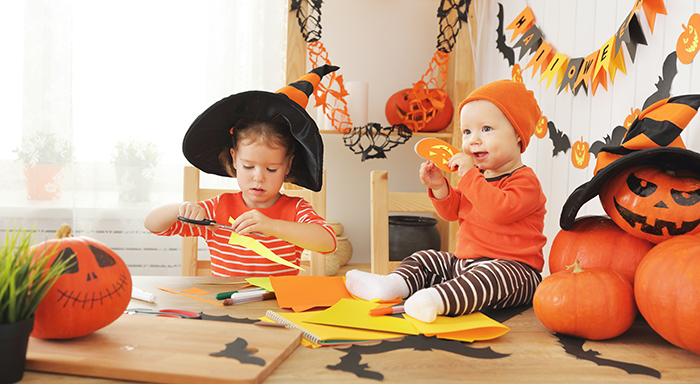 Pumpkin sweet dispenser
Carve a pumpkin out to allow room for a plastic bowl to fit in the front or top of it and you have a perfect way to hand out treats this Halloween.
Ghost windsocks
Keep some tin cans, wash them out and paint them white (spray paint is good for this). Add spooky ghost faces and some trails of white crepe paper or other material to create a great decoration for inside your house or around the front door.
Treat jars
Using glass jars you can make any simple sweets spooky by adding your own signage to them. An old coffee jar can be instantly transformed into 'spider bites', 'witch sparkles' or 'skeleton tears' with a little bit of creativity.
Halloween bunting
Using fabric, card or any other material you like, you can make some super spooky garlands to drape around the house. Cut out bat shapes, pumpkins or witch hats and string them together or stick them to a piece of ribbon.
Spiderweb hangers
Glue 3 lollipop sticks together, intersecting them to make an asterisk shape. Weave wool between and around the sticks, making your way around the shape in rounds until you have a little spiderweb. Hang these up using another piece of wool. You could even add little spiders cut out of paper or made from pipe cleaners.
Ghostly lollipops
All you need to transform lollipops into a ghostly treat is some white material – tissues, loo roll or kitchen paper will do just fine. Wrap the material around the top of the lollipops, add some black eyes and let the little ones enjoy.