One-ingredient recipes are what every mum needs more of in her life. Add to the fact that this particular recipe is fast, frugal, and fun, too, and you'll have no good reason not to make it – pronto.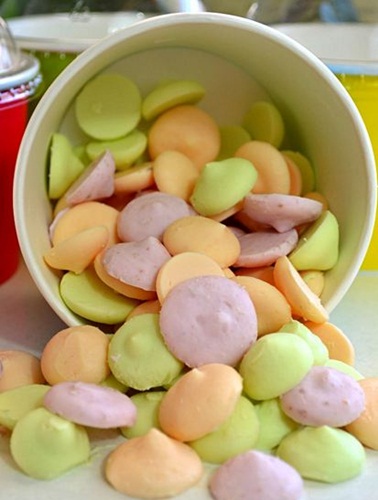 Plus, the kids can even help out if you don't mind a little – OK, a lot of – mess. (The good news is that frozen yoghurt buttons are totally flop-proof, no matter who's doing them.)
Oh, and was it mentioned that these frosty little treats also happen to be healthy? (Move on over, ice-cream.)
So, what you waitin' for?
Ingredients:
Any flavour of Greek yoghurt ( a mix means more colours, which is always more fun)
Instructions:
Fit a small zip-top plastic bag over a cup.
Spoon in the yoghurt.
Snip one corner of the bag and pipe onto baking sheets.
Place in freezer for 1 hour or until completely hard and frozen. TIP: For easy removal line the baking sheet with parchment paper.
Scrape off using an off-set spatula or a regular metal spatula.
Place in an airtight container and store in the freezer until ready to serve.
Recipe (adapted) and image via www.ladybehindthecurtain.com