From birth, parents instinctively use music to calm and soothe children – whether lullabies on a hanging mobile, singing or musical books and toys.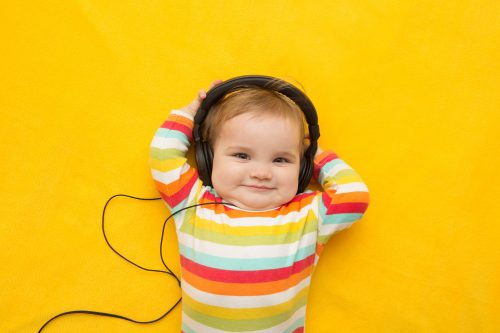 Music is a way of expressing love and joy, and interacting and engaging with children of all ages. Singing and music is everywhere – from theatre and television to celebrations and ceremonies, it's a huge part of our culture. And, it can have a positive impact on a child's development and social skills.
Music can influence all areas of development and skills in the early years – social, emotional, intellectual, motor, language and overall literacy. Enjoying music with your child can help them learn the sounds and meanings of words, helping the mind and body work together. And of course, there's dancing too! This can assist with building motor skills, while allowing your child to practice self-expression. Music is generally synonymous with happiness and fun – a favourite song or a positive tune can really lift a mood, both for mum, dad and baby.
Musical games
Expression through music is great for children of all ages. Young children respond to music by swaying, bouncing, moving their hands around and clapping, and can recognise the melody of a song way before they understand the words. There are a host of activities and games you can do with your little ones for fun and learning through music. Make up songs as you go about your daily tasks – sing about what you're doing while you're bathing, dressing or feeding them.
Put it on repeat
Repetition encourages language and memory. Play or sing familiar songs – mix it up and make it funny by inserting silly words in place of the right ones. Singing 'Incy Wincy monkey' instead of spider, or 'Mary had a little frog' can send toddlers into fits of giggles. You can also help children reproduce rhythms by clapping or tapping objects in time to the music.
Music is something every person can enjoy the benefits of, from the moment they're born. From soothing, peaceful music at quiet and relaxed times, to wild and energetic tunes to bring excitement and fun to the day, the lives, language and social skills of children can truly be enriched with music.