If you can find 'em, there ain't no shame in shortcut suppers; family time is precious and rare enough, and not everyone has the man hours – nor energy – to expend upon elaborate three course feasts and slow-cooked, gastronomic feats.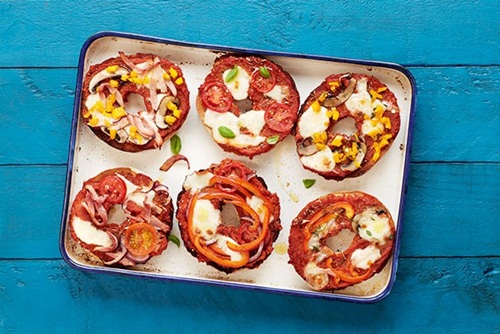 Pizza, in particular, gets way too much criticism as a fast food that has no place at the family table. This here recipe for homemade pizza is indeed 'fast' food – but by no means of the ilk that should induce any feelings of parenting guilt. Using protein-packed, fibre rich wholegrain bagels in place of traditional dough, these cheat mini pizzas are not only supremely easy and speedy to throw together, but also provide a great base for a variety of good-for-everyone toppings. Making them can also be a perfect opportunity to get all the hands (even the little ones!) involved – multitasking and maximising that all-important family time.
Ingredients
4 wholegrain bagels
100g mozzarella cheese
a variety of toppings, e.g. mushrooms, onions, peppers, tuna, leftover cooked meat
1 x 400g tin tomatoes
1 teaspoon dried oregano salt
a little extra virgin olive oil
Method
Turn on the grill to 180°C/gas 4. Slice the bagels horizontally in half.
Place them on a baking tray, cut side up, and slide under grill for 5 minutes.
Blitz the tomatoes with oregano and a splash of olive oil in a food processor or blender.
Spread a thin layer of the tomato sauce over the toasted bagels.
Top thinly with cheese and chosen toppings. Grill for 2–3 minutes, or until the cheese is a bubbling, golden brown.
Sprinkle with a dash of sea salt (for toddlers and adults).
Via madeformums