As soon as the children are back to school, the uniform aisles in shops are quickly replaced with an abundance of Halloween costumes. However, there are many ways your little one can dress up for the occasion without spending lots of money.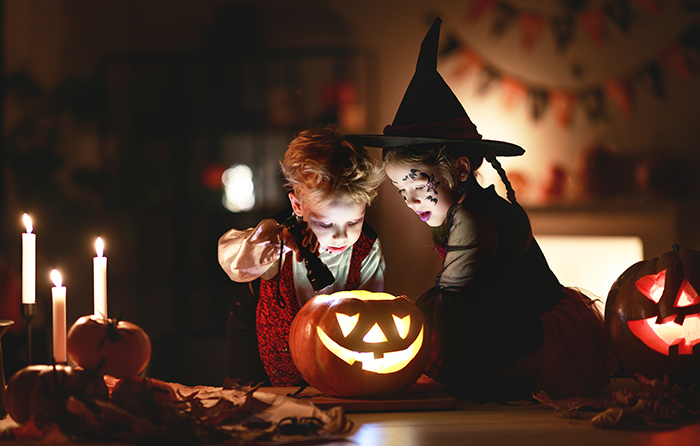 Here are some great ideas for cheap, DIY Halloween costumes.
Black cat
These felines are synonymous with Halloween and it's easy to make your own black cat costume with items you most likely already have. All you need is a black top, leggings or trousers, gloves and shoes. Use some eyeliner, face paints or washable skin-safe pen to put a cute black nose and whiskers on your little one's face and you're good to go. To complete the look, you could buy cat ears and/or a tail or make them from card and a headband.
Halloween bat
Along the same theme as the black cat, to turn your child into a bat for Halloween you just need some black clothing. But, the key to this costume is creating some bat wings, which you can do fairly easily with a black umbrella. Cut the umbrella in half and use safety pins or fabric glue to attach it to the arms of a black hoodie. Fasten the metal hinges with black electrical tape. Alternatively, you could copy a wing shape onto some black fabric (make sure to choose one that doesn't fray), cut it out and attach it as above for a simpler look.
Zombie
All you need for your child to become a zombie is some old clothes and a little bit of imagination! Rip up an old T-shirt, make holes in some old trousers… add a little bit of fake blood or use red paints or felt tips, add some white/black/green face paints and give them a crazy hairstyle!
Spooky skeleton
Cut up an old white T-shirt to create a rib-cage effect and put it over a black vest and you instantly have a skeleton body! Team it with some white trousers or leggings (or create the same effect on the legs if you can, paint a skeleton face on and it's as simple as that!