World Baking day is almost upon us, so it's the perfect time to get busy in the kitchen with the kids. Created by worldbakingday.com, each year on 17th May they aim to spread the joy of baking all around the world. Whether you're a dab hand with a rolling pin or can just about mix melted chocolate with cereal and transfer it into paper cases, there's no reason why you can't get involved.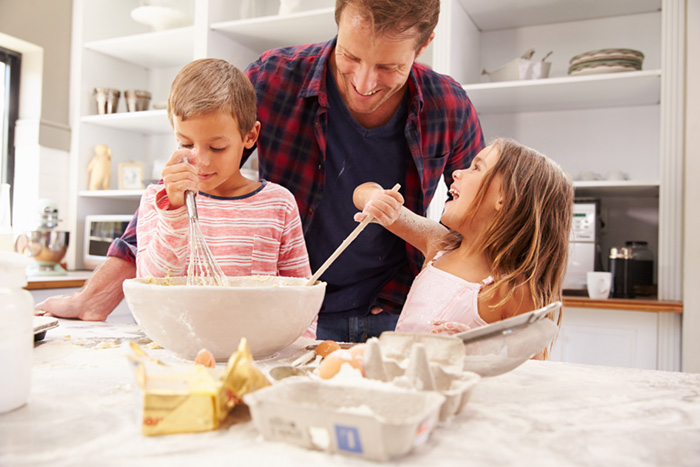 Here are some easy ideas to help you celebrate World Baking Day on 17th May.
Let's start with a super easy one… Rice Krispie cakes. All you need is your favourite cereal (if it's not Rice Krispies then just change the name!) butter, syrup and lots of chocolate. This is a fab idea for little fingers and kids who like to lick the bowl after. Nigella Lawson has a great recipe you can follow, or just go with the flow and make up your own with ingredients you can get hold of.
https://www.nigella.com/recipes/chocolate-rice-krispie-squares
Everyone loves fairy cakes and they're nice and easy to make. You can even buy a ready made box with the ingredients and the paper cases you need. If you want to start from scratch, then Mary Berry has a fab recipe with simple ingredients that you may already have in your cupboard. Kids will love getting involved with the baking, decorating and, of course, eating!
https://www.goodtoknow.co.uk/recipes/mary-berry-s-iced-fairy-cakes
Who doesn't enjoy a yummy cookie? Simple to make and delicious to eat, cookies are a firm favourite with children and grown ups alike. Again, you can buy ready-to-bake packets or you can make your own. Jamie Oliver has a delicious recipe for chocolate chip cookies that takes only 20 minutes, so why not give this a try on World Baking Day?
https://www.jamieoliver.com/recipes/chocolate-recipes/chocolate-chip-cookies/
Of course, baking doesn't just have to be for those with a sweet tooth. There are lots of easy savoury baking recipes to try too – from homemade sausage rolls to vegetable pasties, there's something for everyone. Have a look at the Food Network for some inspirational savoury baking ideas.
http://www.foodnetwork.co.uk/recipe-collection/savoury-baking-dish.html