I've been known to sneak a vegetable (or five) into my kids' meals, submerged beneath pasta sauce or hidden snugly inside a hummus sarnie. I'm not ashamed of the stealth—I serve up visible veg plenty; but children just aren't this kinda food's biggest fan base. So, if you, like me, are always on the lookout for more ways to hide some greens (and oranges, reds, and yellows) on the plate, check out these brilliant lil' beauties.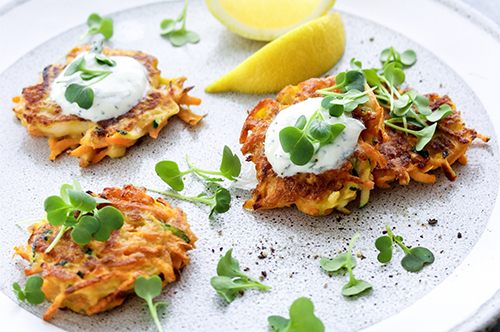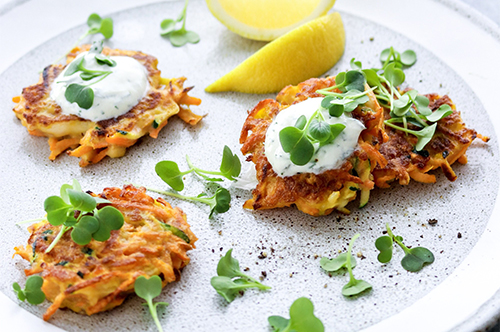 These superbly soothing veggie fritters are a stellar way to incorporate a rainbow of healthy stuff into your little one's lunchbox, or onto their dinner plate. They're easy to handle for tiny hands, with a soft crunch—so great for baby led weaning and toddler meals.
Served best with a basic Greek yoghurt, lemon juice and dill dip, the fritters will go down a treat for the older gourmands in the house, too!
Simple to freeze, and reheated by quickly popping into the toaster, you can make enough to save you on those manic midweek days.
Makes 30 fritters
INGREDIENTS
1 medium courgette, grated
1 carrot, grated
1 large sweet potato, grated
200 gram piece of pumpkin, grated
250 grams halloumi, grated
2 heaped tablespoons basil pesto
zest of 1 lemon
2 garlic cloves, minced
1 cup (150 grams) plain flour
4 eggs
METHOD
In a large bowl, stir together veggies, halloumi, pesto, lemon zest, garlic, plain flour, eggs and sea salt.
Heat a large skillet over low-medium heat, grease with a drizzle of olive oil,  and scoop tablespoonfuls of batter into the pan, frying for around 3 minutes a side. Place cooked fritters onto parchment paper—cover with foil to keep warm.
Adapted from mylovelylittlelunchbox.