Cooking can be fun, and little ones love to get involved and help out in the kitchen. It can also be a great way to get fussy eaters a little more interested in their food. These easy recipes are fantastic for getting your little chef busy in the kitchen!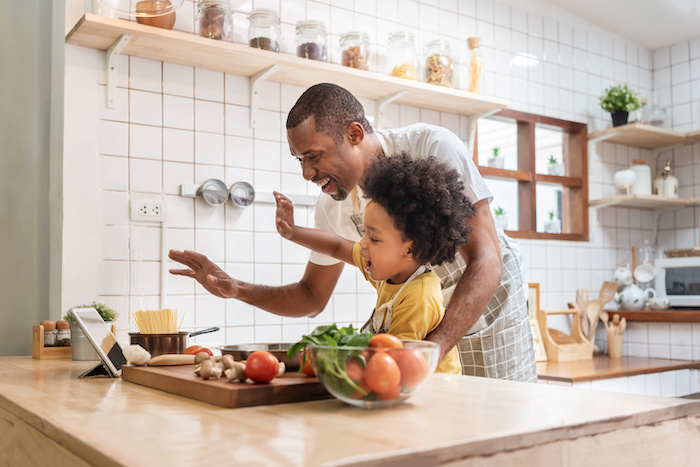 Tomato Spaghetti
This tomato spaghetti recipe has plenty of steps that your little one can help out with, and the end result is delicious. This recipe serves four.
Ingredients
1 onion, chopped
2 cloves of garlic, minced
3 lbs tomatoes, chopped
8 oz cooked spaghetti
4 tbsp butter
1 tbsp extra virgin olive oil
1 tbsp dried oregano
A handful of basil leaves, torn
Salt
Pepper
Finely grated Parmesan
Directions
Heat the olive oil in a large skillet over a medium heat. Once heated, add the onions, salt and pepper, and sauté until they begin to soften. Stir in the garlic and cook for about a minute. Add the tomatoes, stir, and cook until the tomatoes begin to break down to a sauce. Simmer, and add butter, salt, pepper, and oregano. Simmer this sauce for fifteen minutes.
Serve over the cooked spaghetti, and add some torn basil leaves, and Parmesan.
Your little one can help to measure out the ingredients, add them in, and stir the sauce with supervision. Remember that if you use tinned tomatoes, you may need to add sugar to take the sharpness out.
Rainbow Salad Pot
This is a super simple, easy to make recipe. It's bright, tasty, and little ones might not even notice that it's filled with goodness.
Ingredients
350g pasta shapes
160g tuna in olive oil
200g green beans
195g sweetcorn
200g cherry tomatoes
1 orange pepper
4 tbsp mayonnaise
4 tbsp natural yoghurt
Half a small pack of chives
Directions
Cook the pasta shapes for about two minutes less than the packet instructions. Drain well and set to the side. Cook the green beans and rinse them in cold water. Drain well.
Mix the tuna, mayonnaise, and yoghurt. Add the chives and stir until it's mixed well. Add the tuna mix to the pasta.
Set out all the ingredients and 4 jars. Help your little one to add a layer of each ingredient to each jar. Layer the tuna mix at the bottom, then green beans, tomato, pepper, and sweetcorn. Cover the jars, and chill until ready to eat.
You can switch out the veggies for others if you'd rather, and you can involve your little one in deciding what veggies should be part of the tuna pasta salad.
Strawberry Chocolate Bites
These strawberry chocolate bites are delicious, sweet, and easy to make. They're a quick and easy treat that's a healthier choice
Ingredients
2 flour tortillas
10 sliced strawberries
Chocolate spread
Directions
Lay out the tortillas on a flat surface. Help your little one spread the chocolate spread all over the tortillas. Divide the strawberries between the two tortillas and cover as much of the tortilla as you can. Roll each tortilla up as tightly as you can. Place the seam of the roll down and cut into bitesize pieces!