Reading is a fundamental part of a child's development. While some are born 'book worms', others need more encouragement to read. Here are some ways you can get your child excited about reading.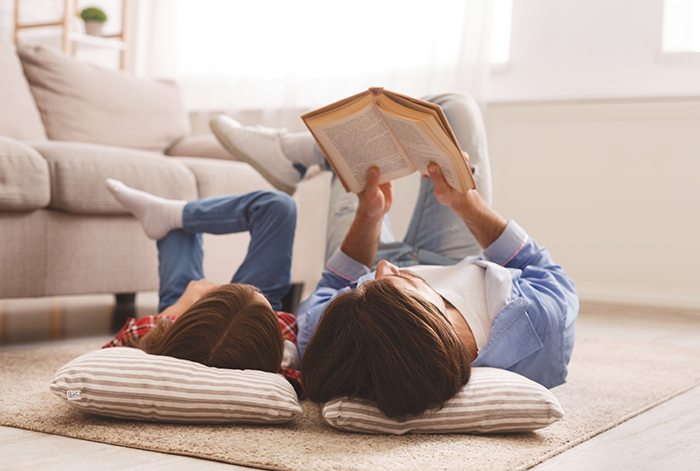 Create a book corner
Make an area of the home that's dedicated to reading – ask your child to help you. Grab a comfy chair, bean bag, pillows or a blanket and add some fun accessories, a selection of books and your little one will love having their own reading area.
Read things everywhere you go
Reading isn't just about books. Everywhere you go there are things to read – from signs to menus and instructions for games. Present your child with every opportunity you can to practise their reading.
Set an example
Everything you do as a parent you are being a role model to your child. And it's no different when it comes to reading. Although finding time to read may not always be easy, if your child sees you reading they will learn that's it's fun and important. While you are reading, you can encourage your child to join you with their own book. If you struggle to find time to read, you could integrate reading time into your child's bedtime routine, setting aside time each day for your family to sit down with a book.
Make reading accessible
One of the best ways to encourage your child to read is have plenty of books around the house for them to enjoy at their leisure. Never force reading, just make it a fun activity they can choose to do by having stimulating and fun-looking books on hand.
Different formats and genres
Make sure you've got plenty of books of different styles and genres to hand, as you never know what your child might be in the mood to pick up. If your child isn't interested in fictional stories, why not try picking up some non-fiction books about their favourite subjects? Or a comic book? If they struggle with keeping attention on their book, why not try setting them up with both an audiobook and the physical book to follow along with? You can often access audiobooks digitally for free through your local library. Let your child guide you to what they'd like to read and don't stifle their enthusiasm and fun in favour of what you think they 'should' be reading.
Involve them in choosing books
Why not bring your child along to the library or bookshop and let them choose a few of their own? Guide them to the appropriate age area, or perhaps to a selection of books you've chosen, and let them pick something. If they've chosen it themselves, they might be more excited to read it.
Support them with reading
All children develop at different paces and reading may be easier for some than others. If they get frustrated, don't push it. See where they are struggling and take a step back to allow them to re-gain their confidence.