Fevers are beneficial, say doctors—the body's way of purging viral pestilence. But that doesn't mean you should let a fever run riot without checking its progress. Inevitably, this can mean waking your sleeping tot to do so—aargh. But fever stickers offer an alternative to this painful procedure.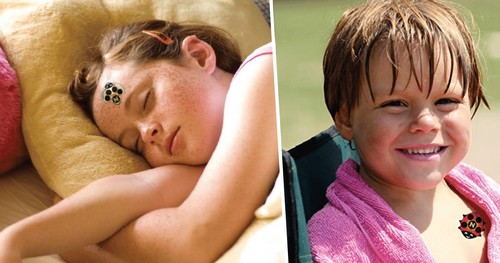 Administering fever-reducing meds to help your sickly bub sleep doesn't always work; and it's important to monitor the mercury in case the number continues to climb to a serious level. Fever stickers allow you to check up on your child's temperature without disturbing their rest—what's more, some stickers brands can even chart the temperature history, too.
Fever stickers aren't exactly new on the nifty product block, but many parents are unaware they exist.
You can grab a pack on Amazon, as well as at most local pharmacists. They come in a variety of friendly bug designs (which tot can refuse a cute sticker?!), each dot on the bug listing different temperatures.
The fever stickers reportedly stay stuck for up to 48 hours, applied with a hypoallergenic adhesive. The stickers are also water-resistant, and utilise liquid crystal technology, "guaranteed to be accurate within 1 degree Fahrenheit".
The product is recommended for children 1 year and up, and manufacturers advise checking any abnormal temp readings against another thermometer.
Remember the signs of a fever to help you know when to reach for the stickers—sweating, chills, shivering, muscle aches, and dehydration.
Via Mommyish