Rainy days with small children can test anyone's patience. They're bored, they have nothing to do, and they want everyone to know about it! If you need some tips on how to fight off rainy day boredom, keep reading. These ideas might help you keep your little ones entertained and avoid rainy day blues.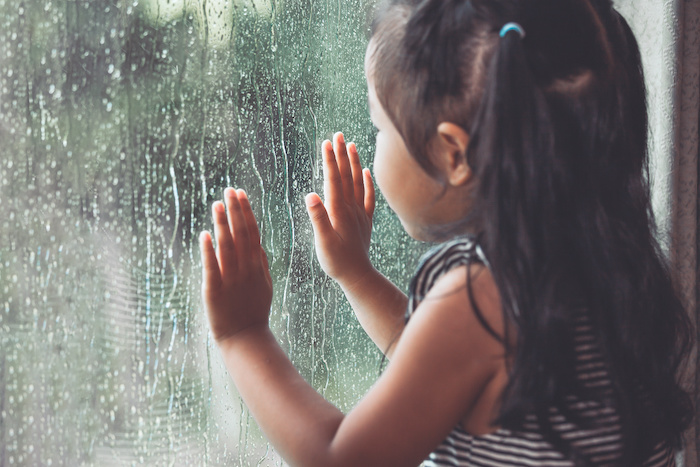 Home Cinema
An at home movie experience may be just what your children need to keep the boredom blues away. Set up seats, pick a movie, and get comfortable. You could even get out the crayons and let your little ones make tickets, or have older children make movie posters to put up on the wall. They could recreate the poster of their favourite movie, or they could make one up themselves. Give them plenty of art supplies and let their imaginations run wild.
Of course, no movie experience is complete without snacks, so get the popcorn going. Really crafty older children might be able to make popcorn boxes from card. You can find templates to print online, and they can cut them out and glue them together. Line the box with a sandwich bag to keep food away from glue and craft materials.
Sugar Cinnamon Glazed Popcorn
Ingredients
50g light brown sugar
10g butter
3 tablespoons double cream
Ground cinnamon
25g unpopped popcorn kernels, or pre-popped plain popcorn
Method
Put the sugar and 2 tablespoons of water into a saucepan and dissolve the sugar over a gentle heat. Bring to the boil without stirring.
When the mixture has turned a dark golden colour, whisk in the butter.
Take the pan off the heat and add the double cream. It may spit, so stand back, and keep little hands away.
Stir well, and then add in the cinnamon, according to taste.
Pop the popcorn in another saucepan for about four minutes. Make sure the lid is tight fitting or hold the lid in place.
Cover the popped popcorn with the glaze, making sure it's coated evenly.
Pretend Camping
If it's raining, and you can't go outside, you can bring the outside inside! Make a fort out of blankets, cushions, and chairs in your living room. Gather up some torches, books, activity packs, and make a picnic. Fill a flask with hot chocolate, and get some different toppings like cream, marshmallows, and sprinkles.
Take it in turns telling campfire stories. Encourage your little ones to use their imagination to come up with an adventurous or spooky story, whichever they'd prefer.
Messy Play
Rainy days are the perfect time for messy play! Gather up your supplies, and make sure you include bowls of different textures and colours. You could include things like shaving cream, custard, oobleck (cornflour and water), bath jelly, and different coloured washable paints. Once you have everything, get your little ones into the bath with old clothes on, and let them explore in an empty bath with any messy materials you want. Encourage them to feel the different textures of the materials.
Watch them closely, and do not leave your child unattended when engaging in sensory play, these activities are intended for children and parents to engage in together. Wait until your child is old enough that they no longer have the urge to nibble on everything in sight. When your children are done, you can just run the bath and get them clean.