Following the five-a-day rule is a great way to ensure that your little one gets the fruit and veg that are crucial to his growth and development.
HiPP Organic has the following five a day for babies tips to help him get all the vitamins and minerals he needs:
1. Add puréed, mashed or chopped fruit to your child's breakfast cereal.
2. Make snack time all about fresh fruit.
3. Fresh fruit counts towards one portion of fruit but dilute it well.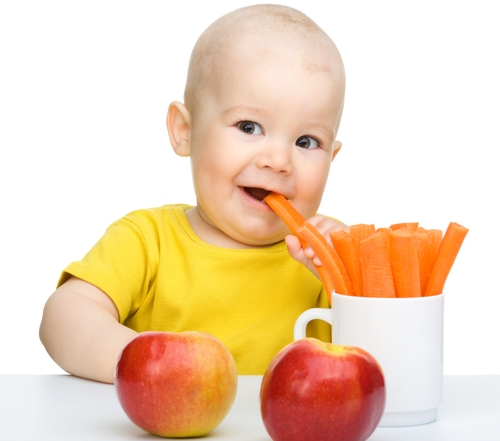 4. Stew is a great way of packing lots of vegetables into one dish.
5. A HiPP Organic 100% fruit pouch makes up two fruit servings.
Tip number five is a shameless plug but, in all honesty, those fruit pouches are pretty darn delicious.
In fact, HiPP has launched a new range of fruit pouches (organic with no added sugar) including the following flavours: Apple, Strawberry & Banana; Apple, Peach, Blueberry & Raspberry; Banana, Pear & Mango; Mango, Apple & Peach.
For more advice for 5-a-day for babies, visit Hipp.co.uk/fruitandveg.