Whether you've recently celebrated the birth of your first child, or you've welcomed a new member to your growing family, being a parent to a baby can be hard at times. But with modern-day technology you're never alone. No matter what time of night or day, there are so many resources available to you online.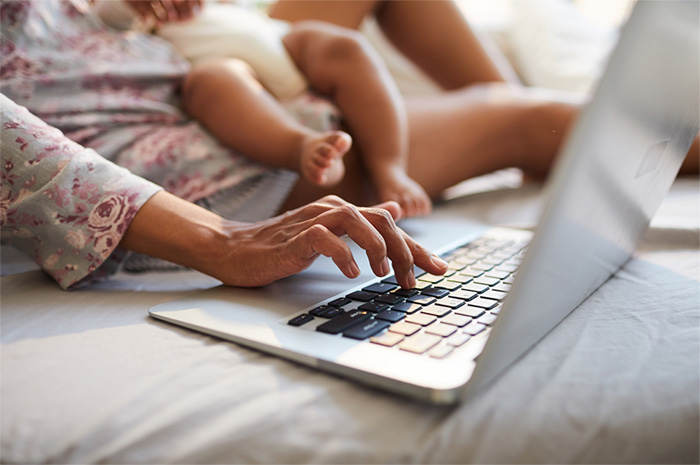 Here we look at five of the best online baby support groups.
This is the leading charity in the UK for parents. Not only do they offer antenatal and postnatal classes across the UK, they also provide comprehensive online support for mums and dads. On their website you can find advice and information on everything from baby development and feeding, to relationships and juggling work. There's also an array of online courses and workshops that you can enjoy from the comfort of your own home.
Baby Centre is a trusted place for parents to go for all kinds of information and help. Almost anything you can think of related to parenting is covered on their extensive website. They have sleep tips, information on finances, potty training techniques, and plenty of helpful videos. There's also a vibrant community of parents you can connect with by asking them questions, sharing knowledge, and reading about their own personal experiences.
Mumsnet is now the UK's biggest network for parents. It's a one-stop-shop for information and support on all topics – from feeding and learning, to relationships and mental wellbeing. You can also find exclusive codes and deals for clothes, family days out and baby essentials, as well as active 'talk', where you can discuss all kinds of topics with other parents.
From conception through to toddler years, What to Expect offers online support for every step of your early years parenting journey. You can find reviews on products such as strollers, nursery furniture and car seats, as well as helpful tools such as baby development trackers, health and safety guides, fun and informative blogs and an array of community discussions.
Bounty offers support for families with the transition into parenthood and through each key life stage – from pregnancy through to pre-school. As well as providing new parents with timely advice and expert knowledge, they also provide 3 'Bounty Packs', which are filled with free samples, money-off vouchers and guides that offer practical and up-to-date information and advice.