Summer's here and there's nothing nicer than being able to spend time outside with the children – whether it's a couple of hours after school or a whole day of family time at the weekend. Outside play is so important to a child's development, even from an early age.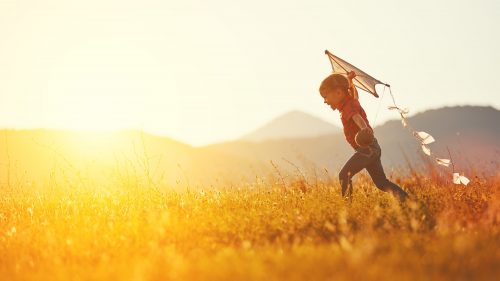 Here are five simple ideas to enjoy the great outdoors while your little ones learn at the same time.
Go on a nature trail
Cut out pictures of (or draw) things to spot on a walk. Nature trails are a great way to get your little ones learning about the natural world around them. You can give points for each thing spotted – for younger ones it could be things of a certain colour or feel, like bumpy things, fluffy things, sticky things. For older children you can introduce species – like certain trees or flowers.
Painting with no mess
It sounds like a parent's dream – an activity children of all ages love, but with none of the mess! How? Using water. Painting with water is all about encouraging free expression while learning how to use a paintbrush. Demonstrate to babies and toddlers how to dip the brush into a bucket of water and then sweep it across your patio, fence or driveway.
Water babies
Babies and toddlers love water – and during the summer it's a great way to get them outside learning and discovering through water play (and keeping cool at the same time). Simple things like splashing in a bowl of water, or transferring water from one container to another, can help motor skills and stimulate your child. If you're feeling more creative, add a little food colouring into your ice cube trays and pop the frozen cubes in a bucket of water – little ones will love watching the water change colour as the ice melts.
Bug hunting
Any field, woodland – or even your own garden – is home to bugs and insects of all shapes and sizes. Go for an adventure in and around where you live – look under rocks, stones, dig in mud, look through the grass – it's amazing what you'll find. See how many different kinds of bugs you can find, teach them the names (if you know them yourself!) and watch them as they crawl around going about their busy bug lives.
Den building
Den building isn't just great fun – it also develops children's creative thinking, builds their confidence and offers plenty of opportunities for learning. Gather branches, leaves and sticks together, encourage problem-solving skills by testing out different structures for the den, and let their imaginations run wild.